lots of lots
Welcome to the world's largest marketplace for fine art, antiques & collectibles.
Marilyn Monroe: ANDY WARHOL: 1967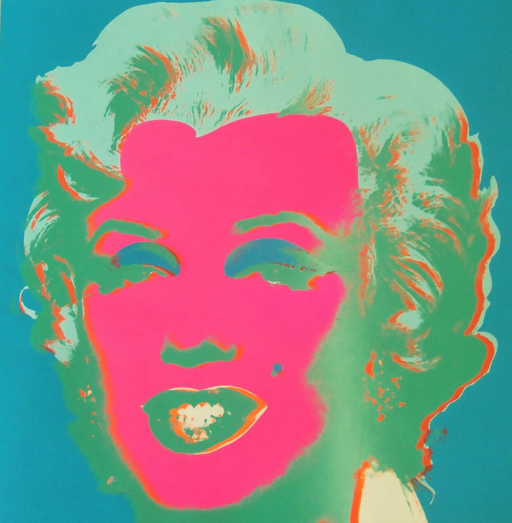 See Sold Price
Don't Miss Your Next Treasure.
Set up a search alert to hear when Art items arrive.
Discover Related Items Available Now
Auction ended on August 3rd, 2014 UTC
Marilyn Monroe: ANDY WARHOL: 1967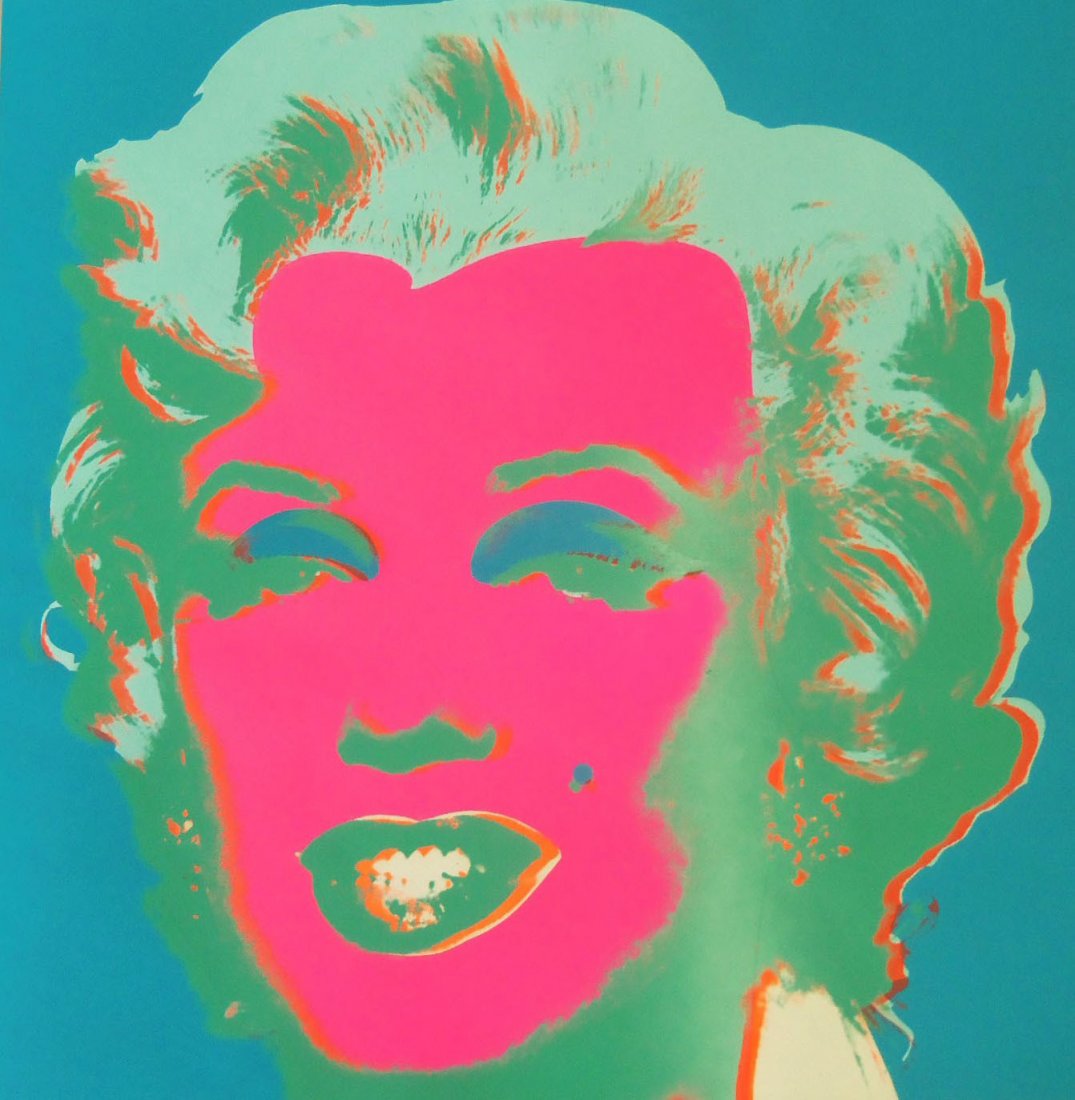 AN original Marilyn Monroe (F./S. II.30) 1967. Screenprint in colors on wove paper, signed in pencil, stamp numbered 59/250 and annotated 'C' on verso, published/printed by Factory Additions, New York/Aetna Silkscreen Company, New York. Signed on Verso by Andy Warhol in pencil bottom left. Bought from Martin Lawrence Galleries in Sept, 1994 and comes with all relevant documentation. Superb provenance. At present unframed. Sheet 36 x 36in. PLEASE NOTE: WE ALSO WELCOME OFFERS: FREE SHIPPING: NO BUYERS PREMIUM: FULL AUTHENTICATION GUARANTEE
Condition
Compared to other 1967 Marilyn's this is in an excellent condition. Some slight fading on the front & some yellowing on version. No, rips, folds or repairs.
Shipping
All shipping will be tracked and dispatched by either FedEX, UPS or DHL. Items and returns are shipped at Buyers Cost. ALL OUTWARD BOUND SHIPPING IS FREE ON UNFRAMED MERCHANDISE. Due to the weight of framed items we will have to ask for payment. We can unframe items once we have received full payment.
Payment
Contact For Payment Details
Accepted payment methods
100% Guaranteed Refund with all purchases
All purchases are completely guaranteed for authenticity (in accordance with our Terms Conditions).
No Buyer's Premium
We never charge Buyer's premium.
Escrow Payment
Certain items, that are clearly MARKED as such, can be eligible for payment by Escrow.com. This will vary from piece to piece and on the Consignee's wishes
General Payment Policy
Artworks will not be dispatched without FULL CLEARED payment under any circumstances. We DO NOT offer cash on pickup and or viewing due to security issues.
Terms
1. We reserve the right to amend, add or remove any condition with immediate effect, without notice. 1a.The word 'me', 'us' , 'I' and 'seller' refers to poparteditions.com. The word 'product' or 'piece' refers to the print purchased. 2. By purchasing any item the Buyer is legally bound by our Terms & Conditions and has entered into them. 3. We reserve the right to amend and withdraw any term or condition and/or description 'of sell' as we see fit. 4. Sale is finalized upon receipt of payment 5. Payment: payment is required by the 5th day of purchase by the method stated. If payment has not been recieved during this period then the sale is considered void and the Buyer is legally reponsible for all costs incurred (these include all potential Credit Card & Paypal costs). 6a.For the avoidance of doubt, the Buyer hereby affirms that it does not in any way rely on any description when entering into the sale contract. 6b. SHIPPING: though origins of shipping country can be given we reserve the right to change and amend the dispatched country, depending of availability, without notice. 7. RISK: Risk in the Goods shall pass to the Buyer at the moment the Goods are dispatched from the Seller`s premises. Where the Buyer chooses to collect the Goods, risk will pass when the Goods are entrusted to it or set aside for its collection, whichever happens first 8. REFUNDS: The print or prints have to be purchased, dispatched & recieved by the Buyer (within 10 days of purchase) in order to qualify for any of the below conditions, refunds and guarantees. Any piece that has not been dispatched or received within 10 days of purchase (either due to loss, theft, complete damage, cancelation) is not eligible for a refund. A credit can be offered at the discretion of poparteditions.com). We highly recommend all shipments to be properly and fully insured by the Buyer before shipment; this is wholly the Buyer's responsibility (see GENERAL and REFUNDS section for more details). GENERAL: i) Refunds are only offered by the return of the piece in EXACTLY the same condition as sent (within 5 days of purchase); this guarantee is completely dependent on the conditions as set out in point 'LOSS, DAMAGE & THEFT OF PRODUCT'. II) It is the Buyers responsibility to ensure and pay for the safe return of the product and must make sure that the item/s are insured up to the purchase value. III) If the product is not received in the same condition sent, lost or damaged, then the Buyer forfeits the right to a refund. VI) If the product has been received, and the buyer is in receipt for 5 days, then the Buyer is only entitled to a refund under our lifetime guarantee policy.*LIFETIME GUARANTEE: V) this guarantee covers any request for a refund after the initial 5 day refund period and is subject to the following conditions: a) the product is deemed to be unauthentic by a professional recognized body or qualified authenticator. this particular individual or organization has been agreed, by poparteditions.com, to possess enough knowledge to give an accurate opinion. b) a detailed examination and report has been made and submitted to poparteditions.com. c) after the submittance of this report the piece will be sent back to poparteditions.com and must confirm to the 'REFUNDS: GENERAL' section I), II), III. VI) LOSS, DAMAGE & THEFT OF PRODUCT: if the product is Lost, Damaged or Stolen during transport (during the sending of a item to a Buyer) then a insurance claim must be filed with the receiver. The insurance of said item is WHOLLY the responsibility of the receiver. If the item arrives either completely or partially lost, stolen or damaged, and insurance has not been allocated and paid (for the total purchase price) by the receiver, then the receiver forefits the right to a refund. If there is any dispute, disagreement or error on the couriers part, or the receiver, concerning the insurance claim (or information provided by the courier or receiver) then this must be fully investigated, during which time the refund will remain on hold. If the error resides with the courier or insurance company then all refunds are voided. 6. DISCLAIMERS: I) All prints and Artist descriptions (including size, medium, condition) is poparteditions.com opinion and though every check is made, poparteditions.com claim no complete accuracy of any information given, as mistakes are made from time to time II) Though every possible reference and check has been made, the Authenticity of the piece is solely the professionally opinion of the particular Authenticator who signs the Certificate Of Authenticity III) poparteditions.com except no legal liability of the statements, opinions, reports or Certificates Of Authenticity given by the particular Authenticator IV) The Authenticator accepts sole legal responsibility of the accuracy of information given. 7. LIABILITY: parts of this section are also included in the DISCLAIMER section:a) No liability of any nature shall be incurred or accepted by poparteditions.com in respect of any representation made by the Seller, or on its behalf, to the Buyer, or to any party acting on its behalf, prior to the making of this contract where such representations were made or given b) No liability of any nature shall be accepted by poparteditions.com to the Buyer in respect of any express term of this contract where such term relates in any way to: the correspondence of the Goods with any description the quality of the Goods 6. DISCLAIMERS: I) All prints and Artist descriptions (including size, medium, condition) is poparteditions.com's opinion and though every check is made, poparteditions.com claim no complete accuracy of any information given, as mistakes are made from time to time II)Though every possible reference and check has been made, the Authenticity of the piece is solely the professionally opinion of the particular Authenticator who signs the Certificate Of Authenticity III) poparteditions.com except no legal liability of the statements, opinions, reports or Certificates Of Authenticity given by the particular Authenticator IV) The Authenticator accepts sole legal responsibility of the accuracy of information given. V) PROVENANCE: provenance is provided by previous sellers and buyers. poparteditions.com do not guarantee, and are not responsible for, the accuracy or completion of any information given by 3rd parties regarding provenance. Some provenance is incomplete and/or missing, which is again the repsonsibility of 3rd party. The amount of detail and extent of information for individual items can vary considerably. 7. LIABILITY: parts of this section are also included in the DISCLAIMER section:a) No liability of any nature shall be incurred or accepted by the Seller or poparteditions.com in respect of any representation made by the Seller or poparteditions.com, or on its behalf, to the Buyer, or to any party acting on its behalf, prior to the making of this contract where such representations were made or given b) No liability of any nature shall be accepted by the Seller or poparteditions.com to the Buyer in respect of any express term of this contract where such term relates in any way to: the correspondence of the Goods with any description the quality of the Goods c) where any court or arbitrator determines that any part of the above is, for whatever reason, unenforceable, the Seller or poparteditions.com shall be liable for all loss or damage suffered by the Buyer but in an amount not exceeding the contract price of the item 8. INTELLECTUAL PROPERTY RIGHTS: All Intellectual Property Rights produced from or arising as a result of the performance of this Agreement shall, so far as not already vested, become the absolute property of the Seller, and the Buyer shall do all that is reasonably necessary to ensure that such rights vest in the Seller by the execution of appropriate instruments or the making of agreements with third parties. 9 FORCE MAJEURE: poparteditions.com shall not be liable for any delay or failure to perform any of its obligations if the delay or failure results from events or circumstances outside its reasonable control, including but not limited to acts of God, strikes, lock outs, accidents, war, fire, breakdown of plant or machinery or shortage or unavailability of raw materials from a natural source of supply, and poparteditions.com shall be entitled to a reasonable extension of its obligations. If the delay persists for such time as the Seller considers unreasonable, it may, without liability on its part, terminate the contract. 10. SEVERABILITY: If any term or provision of these Terms and Conditions is held invalid, illegal or unenforceable for any reason by any court of competent jurisdiction such provision shall be severed and the remainder of the provisions hereof shall continue in full force and effect as if these Terms and Conditions had been agreed with the invalid, illegal or unenforceable provision eliminated. 11. WAIVER: The failure by either party to enforce at any time or for any period any one or more of the Terms and Conditions herein shall not be a waiver of them or of the right at any time subsequently to enforce all Terms and Conditions of this Agreement.12. GOVERNING LAW AND JURISDICTION: This Agreement shall be governed by and construed in accordance with the law of [England OR Scotland] and the parties hereby submit to the exclusive jurisdiction of the [English OR Scottish] courts. All other Terms & Conditions offered by any Company, Body, Individual or Financial organisation is thereby void and our Terms & Conditoins superseed them. AUCTIONS: Any bid on our Auctions is an automatic acceptance of our Policies & Terms & Conditions of Sale.The item/s are sold as shown and are not dependent on any further condition/s other than those stated here. Items will not be available for viewing and or/delivery WITHOUT FULL PAYMENT UP FRONT BY BANK WIRE AND CLEARED FUNDS. Cash on Delivery, or cash on viewing is strictly not accepted. Any other condition/s imposed by a Buyer/s after a successful winning bid will be seen as an attempt to break our conditions of sale and the bidding and winning contract. Such actions will result in funds being recovered by Legal means. SHIPPING: Products will take up to 48 hours to be shipped. We only ship to the EU, Canada and the United States. All parcel will be despatched by DHL, FedEX or UPS and fully trackable to destination. Please see DHL, FedEX or UPS Terms & Conditions for full information on Terms of Carriage. PRIVACY POLICY: Your privacy is very important to us. Accordingly, we have developed this Policy in order for you to understand how we collect, use, communicate and disclose and make use of personal information. The following outlines our privacy policy. * Before or at the time of collecting personal information, we will identify the purposes for which information is being collected. * We will collect and use of personal information solely with the objective of fulfilling those purposes specified by us and for other compatible purposes, unless we obtain the consent of the individual concerned or as required by law. * We will only retain personal information as long as necessary for the fulfillment of those purposes. * We will collect personal information by lawful and fair means and, where appropriate, with the knowledge or consent of the individual concerned. * Personal data should be relevant to the purposes for which it is to be used, and, to the extent necessary for those purposes, should be accurate, complete, and up-to-date. * We will protect personal information by reasonable security safeguards against loss or theft, as well as unauthorized access, disclosure, copying, use or modification. * We will make readily available to customers information about our policies and practices relating to the management of personal information. We are committed to conducting our business in accordance with these principles in order to ensure that the confidentiality of personal information is protected and maintained.
Discover Items You'll Love

Bid Anywhere, Anytime. Download the LiveAuctioneers App.
Available on the App Store
Android App on Google Play