lots of lots
Welcome to the world's largest marketplace for fine art, antiques & collectibles.
Tri-City Blackhawks Waterloo Hawks NBA Program Rare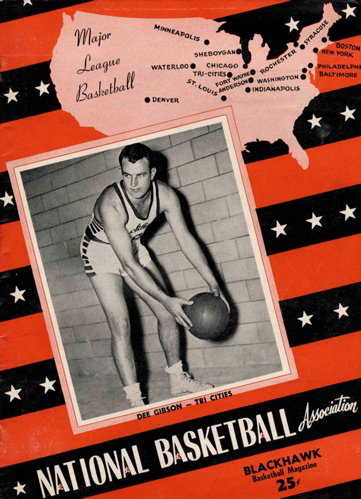 See Sold Price
Don't Miss Your Next Treasure.
Set up a search alert to hear when Collectibles items arrive.
Discover Related Items Available Now
Auction ended on September 19th, 2007 UTC
Tri-City Blackhawks Waterloo Hawks NBA Program Rare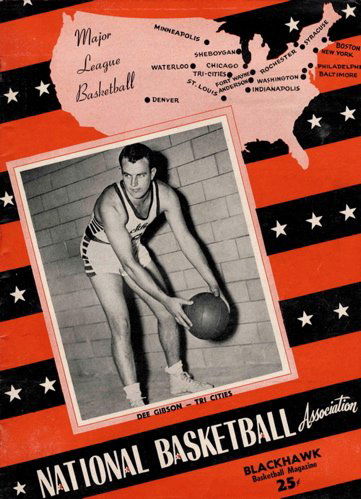 Tri-City Blackhawks vs. Waterloo Hawks NBA Program -- 1949-50 -- 24pp. -- Creases, Toning & Wear, Otherwise Very Good
Shipping
Buyer Pays Shipping Cost
Payment
Contact For Payment Details
Accepted payment methods
Terms
NATE D. SANDERS AUCTIONS CONDITIONS OF SALE THE FOLLOWING CONSTITUTES THE ENTIRE TERMS AND CONDITIONS UPON WHICH PROPERTY LISTED IN THE CATALOGUE SHALL BE OFFERED FOR SALE OR SOLD BY NATE D. SANDERS AND ANY CONSIGNOR OF SUCH PROPERTY FOR WHOM WE ACT AS AGENT. 1. As used herein the term "bid price" means the price at which a lot is knocked down to the purchaser and the term "purchase price" means the aggregate of (a) the bid price, (b) A PREMIUM PAYABLE BY THE PURCHASER OF 22.5% OF THE BID PRICE and (c) California state or local sales tax. 2. This is a live auction, with absentee bids accepted via Mail, Phone, Email and Fax. As of closing time printed below, the highest bidder shall be deemed to have purchased the offered lot in accordance with all of the conditions set forth herein and thereupon (a) assumes full risk and responsibility therefore (b) if requested will sign a confirmation of purchase, and (c) will pay the purchase price in full or such part as we may require for all lots purchased. No lot may be transferred. All property shall be shipped at the purchaser's expense. Each sale made pursuant to these Conditions of Sale will be deemed to constitute a grant of a security interest by the purchaser to us in, and we may retain as collateral security for the purchaser's obligations to us, any of the purchaser's property in our possession, and we may apply against such obligations all monies held or received by us for the account of, or owing to, the purchaser. Whenever the purchaser pays only a part of the total purchase price for one or more lots purchased, we may apply such payments, in our sole discretion, to the lots we chose. Payment will not be deemed made in full until we have collected all amounts due in cash(In House Only) or good funds represented by cleared checks or cashier checks. If the foregoing conditions or any other applicable conditions herein are not complied with, in addition to other remedies available to us and the consignor by law, including but without limitations, the right to hold the purchaser liable for the purchase price, we at our option may either (a) cancel the sale, retaining as liquidated damages all payments made by purchaser or (b) resell the property, either publicly or privately, and in such event the purchaser shall be liable for the payment of any deficiency plus all costs and expenses of both sales, our commission at our standard rates, all other charges due hereunder, attorney's feel and incidental damages. 3. All autograph signatures, letters, documents and signed photos are guaranteed authentic, all other items are sold "as is". All statements contained in the catalogue or in any bill of sale, invoice or elsewhere as to period, culture, source, origin, measurements, quality, rarity, provenance, importance, exhibition and literature of historical relevance or physical condition are qualified statements of opinion and not representations or warranties. The purchaser hereby accepts the benefit of the consignor's warranty of title and other representations and warranties made by the consignor for the purchaser's benefit. The purchaser expressly acknowledges and agrees that in no event shall we be liable for any damage including, without limitation, any compensatory, incidental or consequential damages. 4. We reserve the right to withdraw any property at any time before the actual sale. We reserve the right to reject a bid from any bidder. The highest bidder acknowledged by us shall be the purchaser. In the event of any dispute between bidders, or in the event we doubt the validity of any bid, we shall have sole and final discretion either to determine the successful bidder or to re-offer and resell the article. If any dispute arises after the sale, our sales records shall be conclusive in all respects. If we are prevented by fire, theft or any other reason whatsoever from delivering any property to the purchaser, our liability shall be limited to the sum actually paid therefore by the purchaser and shall in no event include any incidental or consequential damages. 5. If a lot is offered subject to a reserve (the confidential minimum price below which the lot will not be sold), we may implement such reserve by biding on behalf of the consignor, whether by opening bidding or continuing bidding in response to other bidders until reaching the reserve. Nate D. Sanders may own some or many of the lots in this sale. 6. We have tried to accurately describe every item in this catalog. Condition description ranges are: poor, fair, good, very good and fine. Poor being the lowest level and fine being the best condition. Substantial defects are noted, minor defects may not be mentioned. If any substantial defect not described in the catalog is discovered by the purchaser, the lot must be returned within two days. This is not an approval sale. Any return for any reason other than authenticity issues will not be accepted if the item is not paid in full within 7 days of the auction date, or 7 days from the issuance of invoice by Nate D. Sanders 7. All items are to be paid for by (a) cash(In House Only), (b) cashier's check or (c) personal check made to "Nate D. Sanders" All sales are final. No bid can be withdrawn at any time. All payment must be in U.S. dollars. 8. These Conditions of Sale and the purchaser's and our respective rights and obligations hereunder are governed by California law. By bidding at an auction, whether by Fax, Mail, Telephone or other means, the buyer or bidder agrees to be bound by these Conditions of Sale. Any dispute, controversy or claim arising out of or relating to the Agreement or the breach, termination or validity thereof, brought by or against Nate's Autographs Inc. (but not including claims brought against the consignor by the purchaser of lots consigned hereunder) shall be resolved by Arbitrator. 9. The Arbitrator shall be empowered to order specific performance and to award consequential damages and pre-award interest, but shall not be empowered to award punitive damages. The arbitration shall be governed by the U.S. Arbitration Act, 9 U.S.C. 1-16, and judgment upon the award rendered by the Arbitrator may be entered by any court having jurisdiction thereof. Each party shall bear its own attorney's fees and expenses in connection with such proceedings and shall bear one-half of the Arbitrator's fees and expenses. 10. These Conditions of Sale shall bind the successor and assigns of all bidders and purchasers and insure to the benefit of our successors and assigns. No waiver, amendment or modification of the terms hereof shall bind us unless specifically stated in a writing signed by us. If any part of these Conditions of Sale is for any reason invalid or unenforceable, the rest shall remain valid and enforceable. 11. We accept absentee bids in advance of sale by Telephone, Email, Fax or Mail. "Buy" bids will not be accepted; all bids must state the highest bid price the bidder is willing to pay. As noted above, a premium payable by the purchaser will be added to the bid price. In the event identical bids are submitted, the earliest will take precedence. We assume no responsibility for failure to execute these bids for any reason whatsoever. 12. Estimated Prices. As a convenience to our clients, we furnish pre-sale estimates for all lots included in the catalogue. These are intended as an approximate guide to our opinion of current market value, and should not be interpreted as a price. The final bid price may well be less than or more than any estimate printed. 13. The purchase of any letter or document does not give the buyer any copyright ownership. 14. Shipment is via USPS unless otherwise instructed. Shipping charges are added to all invoices. Items are shipped after receipt of payment. We do not ship to P.O. boxes unless a special arrangement is made. THE PLACING OF A BID SHALL CONSTITUTE ACCEPTANCE OF THE PRECEDING TERMS AND CONDITIONS Commonly Used Abbreviations 1p = One Page 1st Ed = First Edition ALS = Autograph Letter Signed AMS = Autograph Manuscript Signed AMQS = Autograph Musical Quote Signed ANS = Autograph Note Signed AQS = Autograph Quote Signed BS = Book Signed COA = Certificate of Authenticity CS = Check Signed CDV = Carte de Visite CW = Civil War DJ = Dust Jacket DS = Document Signed FDC = First Day Cover Ffep = First Front Endpage Folio = 11" x 14" or larger HB = Hard Back Book ISP = Inscribed Signed Photo LS = Letter Signed MS = Manuscript Signed ND = No date NP = Newspaper Octavo or 8vo = Approximately 5" x 7" Pp = Number of Pages Quarto or 4to = Approximately 8" x 10" RB = Rare Book SP = Signed Photo TLS = Typed Letter Signed Vols = Volumes
Discover Items You'll Love

Bid Anywhere, Anytime. Download the LiveAuctioneers App.
Available on the App Store
Android App on Google Play