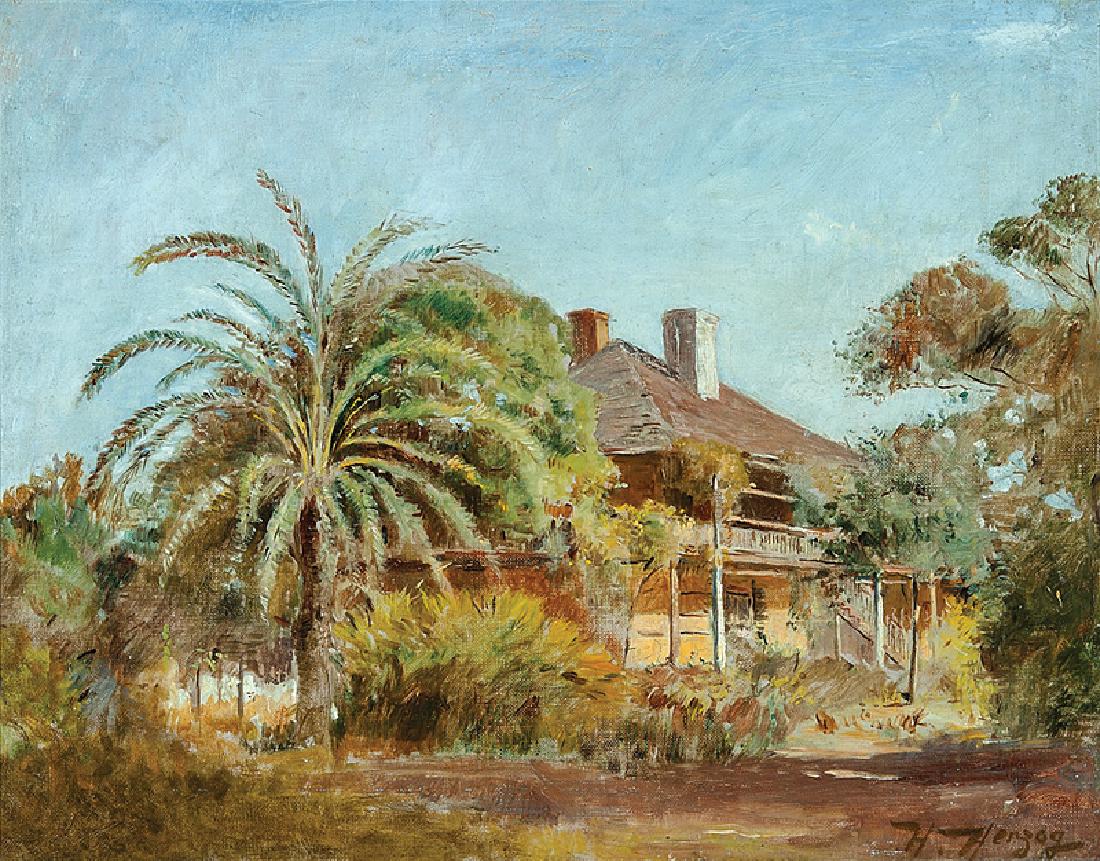 Hermann Ottomar Herzog (German/American, 1832-1932), "St. Augustine House with Palm Tree", oil on canvas, signed lower right, 14 1/4 in. x 18 in., framed. Provenance: St. Augustine Art Gallery, St. Augustine, FL, May 5, 2011; Estate of Faith K. Tiberio, St. Augustine, FL. Note: Born in Germany, Hermann Herzog emigrated to the United States in 1870, settling in the Philadelphia area. Having been trained in the Dusseldorf School style of painting, which emphasized realism, finely detailed landscapes, and a light palette, Herzog easily related to the Hudson River School painters in his new home country. Herzog traveled extensively, visiting states in the northeast and the west before discovering the state of Florida in 1884. Over the next five decades, Herzog painted over two hundred and fifty Florida scenes, and these paintings are considered some of his finest.
Inspired by the atmospheric effects of the Florida climate, Herzog combined the realism of his Dusseldorf training with an Impressionist-like palette and brushwork to create lush sub-tropical scenes. In the lot presented here, Herzog's style perfectly suits the subject, believed to be a back view of the Presbyterian Manse on St. George Street in St. Augustine. Utilizing a clear blue sky and light and airy palette of greens and yellows, the artist captures both the fine details on the building and tropical impression of the foliage to provide the viewer with a feeling of Florida.
Ref.: Libby, Gary R. Reflections: Paintings of Florida 1865-1965. Daytona Beach, FL: The Museum of Arts and Sciences, 2009; Mann, Maybell. Art in Florida: 1564-1945. Sarasota, FL: Pineapple Press, 1999.
Hermann Ottomar Herzog (German/American, 1832)
6 

Days
22 

Hrs
22 

Min
Until Auction Starts
Register to Bid

Neal Auction Company
4038 Magazine Street
New Orleans, LA 70115
United States

Discover Items You'll Love