Weekly Auctions of Exceptional Items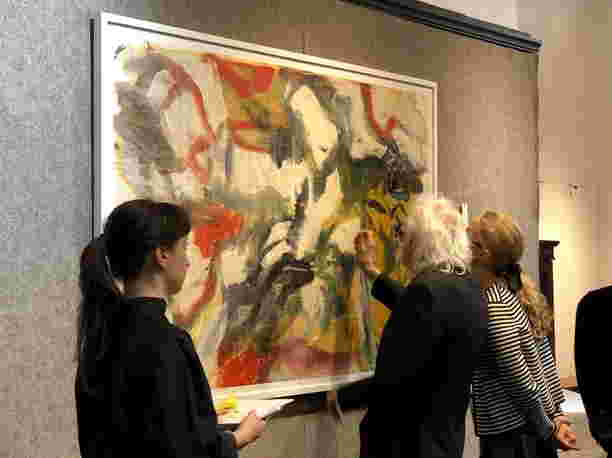 Lot number 70 is the second of the now world famous paintings of which six were identified in the Orrin Riley Studio storage unit as being by Willem de Kooning, and one was determined to be by Paul Klee (lot no.69 in this sale). Approximately 180 articles and television reports of this discovery have appeared in many different languages around the world, as well as, radio and internet coverage. To see these articles and television reports put David Killen and de Kooning into a search engine like Google.-------------"Untitled II" measures 65 inches by 43 inches in a frame 75 inches by 47 inches-------------------You will see if you scroll down the photos to the left, the bottom three photos show the original packaging of the painting in the storage room complete with notes, inventory numbers and photos that the collection curator and archivist Suzanne Quigley,made of the de Kooning paintings, for the inventory of the studio after Susanne Schnitzer was killed in the automobile accident in 2009.The catalog number Ms.Quigley assigned to the painting, was C107.She cataloged all 200 items for the executors of the Estate of Susanne Schnitzer, who inherited the restoration business from Orrin Riley and was a top paper restorer.Quigley described this work and all the de Koonings as "pull away paintings", which is a little confusing. They are oil paintings, the same as hundreds of others de Kooning did in the mid 1970's.Paint has been applied directly to the surface by the artist.David Killen Gallery doesn't understand exactly what the phrase "pull away painting" is, and cannot find it anywhere in the de Kooning literature.Lawrence Castagna, who was de Kooning's assistant, said he was not familiar with the term "pull away painting" but he did know that de Kooning would take a small piece of paper, apply it to wet paint, and "pull the paper away", causing the paint to lift, and get an effect he could not get with a paint brush.This might be where the confusion started.This technique would be in isolated areas of a large painting.Susanne Quigley stated to David Killen Gallery that she had been through all of the notebooks that Susanne Schnitzer kept in the Orrin Riley studio, and the six de Koonings that are part of the 200 items David Killen Gallery purchase are not mentioned anywhere in the notebooks, suggesting they might have been there since the early 1980's.David Killen Gallery would like to thank Suzanne Quigley for her time and help in researching the notebooks and explaining how she catalogued the 200 works-------------------------------History: De Kooning and Orrin Riley knew each other. Both men were famous in their fields, de Kooning as one of the greatest Abstract Expressionist of his generation, and Riley as a superstar art restorer who started and ran the restoration department at the Guggenheim for 20 years before leaving to start his own restoration business on the Westside of NYC. Riley regularly restored and repaired de Kooning works for the most famous institutions in the art world, such as the Metropolitan Museum, MoMA, Pace Galleries, Xavier Fourcade, Pasedena Museum of Art, and countless others. The Orrin H Riley restoration studio was active on the West side of NYC from approximately 1981 to 2009, when the works in the studio went into storage in New Jersey and the property was sold. Orrin Riley's notebooks are currently cataloged at Harvard University, for research purposes.-----. Orrin H Riley and Susanne Schnitzer his girlfriend, business partner and world famous restorer of works on paper, were the two principals of the studio. Orrin passed away in 1986 and Susanne in 2009. After 9 years, working with the Attorney Generals 0ffice for the State of New York, Susannes executors were told that the 200 works whose original owners could not be located or determined, are now declared to be:legally abandoned, and they were free to sell the items. David Killen Gallery bought all 200 works for 15,000.00, including six paintings by Willem de Kooning, Paul Klees first Curtain paintng: Vorhang 129(lot 69 in this auction), done while he was still at the Bauhaus in 1924, and 193 other works of art, which will be auctioned off one by one at the David Killen Gallery in NYC, over the next few years. As far as the six de Koonings and the Paul Klee, the first two de Koonings will be auctioned in the Oct 14th sale, along with the Paul Klee, and two more de Koonings will be sold in Nov 11th. 2018 and the last 2 de Koonings will be sold in December 9th,2018.All these works have some kind of damage, with the Paul Klee having the most damage, appearing to have ink spilled on it. Before the ink was spilled on the Paul Klee painting, it had been offered at Christies in London in 1990 with and estimate of 250,000.00 to 350,000GBP (408,000.00 to 572,000.00USD)but failed to sell. Sometime after that sale, ink must have been spilled on the Klee, and this is probably why it was brought to the Orrin Riley Restoration studio for repair, but was probably determined to be a situation where the ink could not be removed and it remained most likely as an abandoned insurance claim, where the previous owner was paid off, but the insurance company did not want it anymore because the belief was there was no money to be recovered since the ink could not be removed.Tests done by David Killen Gallery show that the ink is water soluble but it has soaked into the painting, and probably cannot be removed completely.-------------Because of the extraordinary circumstances of this art world discovery, David Killen Gallery is able to offer all the de Koonings and the Paul Klee starting at the price of 1000.00 each or at whatever the internet bids are up to at the time of the auction.Lawrence Castagna, who worked at Orrin Riley studio with Susanne Schnitzer when she was alive, and worked as an assistant to Willem and Elaine de Kooning and currently has an Art Conservation business has already declared he is 100% certain that the de Koonings are genuine, having worked on countless other similar ones at the Orrin Riley studio, and having witnessed de Kooning paint similar works all day long in de Koonings on the same kind of paper, using the same kind of acrylic in his East Hampton studio. David Killen Gallery also contacted a world famous recognized expert on de Kooning, who also agreed without hesitation that all the works were genuine, and the expert was kind enough to inform the Willem de Kooning Foundation of their existence, and tell them of their importance as a discovery. This expert, like almost all experts in de Kooning, Pollack and Warhol does not wish to make his name public, for fear of being dragged into litigation. The Willem de Kooning Foundation does not authenticate. As well, out of fear of being dragged into litigation. This expert also said: I do not know if you can call these works de Kooning paintings, as we do not know what was in his (de Koonings) mind when he created them...in other words were they intended to go on someones wall as a finished de Kooning painting, or were they sketches for larger works, or just de Kooning working out ideas? But yes they came from de Koonings hand. I asked the expert if it was possible de Koonings created them as finished paintings. Yes, sure, the expert said, that is possible too. Lawrence Castagna differed with the expert on this point and said: in my opinion they are finished paintings, similar to what he was doing over and over again in the 1970s. Sometimes the ones on newspaper were just de Kooning wiping his brush off, but the same type of thing has been sold in the art world for 60,000.00 to 80,000.00 each, and sometimes he painted directly on newspaper as a finished painting.----David Killen, owner of David Killen Gallery auction house, states: The fact is we can never ultimately know what was in de Koonings mind when he created these works, but in my opinion, they are great paintings, showing de Kooning at the height of his powers as one of the giants of Abstract Expressionism. The intensity of the colors, the dynamic swirls of the brushstrokes and amazing energy of composition show a great master in full control of his genius. When the six de Kooning paintings were discovered they were loose in large boxes. Each painting was professionally mounted by Lawrence Castagna, who also supervised the framing. I told Lawrence: if you see a hole, do not fix it, if you see a missing piece, do not replace it, I want the world to see them as I found them, just make sure they are stable enough to be framed, and you have to do minor work here in there to get them to a point where they are stable enough to be transferred to a frame, that is ok. And that is what Lawrence did. Occasionally he mended a small tear, but basically left them so they could be seen as they were found. Anyone wishing to do a full scale restoration, is free to purchase the works and give them to their restorer, as they are completely removable from the board they are mounted on, for further conservation if one chooses to do that.Most people who have viewed the works, like them the way they are, but everyone is different. They can be transferred to canvas as well. Good luck to all bidders.------------------------------------------------------------------------------------------- Typical questions asked: 1.Why would someone give a de Kooning to a restoration studio and then never pick it up again? Answer: All of the de Kooning paintings and the Paul Klee paintings and the 193 other unclaimed artworks in the Orrin Riley storage unit were probably for the most part, insurance claims left by insurance companies that were hoping to recover some of the money lost by the company after they paid the previous owners for the damage. At the time, in the 1970s, de Kooning was alive and his works from that time period were only selling for 5000.00 to 10,000.00 dollars each, and the cost of repairing the works, sometimes were as much or more than the value, hence, the insurance company would walk away. In the case of the Paul Klee, the insurance company was probably told the ink could not be removed completely. Notes were found in the records books of the Orrin Riley storage, stating:Paul Klee...no value, possibly referring to the Paul Klee painting.-----------------------------------------2.What if someone comes out of the woodwork and says:that is my de Kooning. I want it back. What rights of ownership do they have? Answer: None. The Attorney General for the State of New York has declared the works: legally abandoned, after having been left unclaimed for between 9 years and possibly as long as 38 years.---------------------- 3.What steps have been taken to authenticate the works? Answer: The Paul Klee is a known work of art, in the Paul Klee Catalog Raisonne as Vorhang 129, 1924. The de Koonings were identified in the Orrin Riley studio as by Willem de Kooning, and Lawrence Castagna, who worked as Elaine and Willem de Koonings assistant as well as having worked in the Orrin Riley restoration studio on similar de Kooning paintings, recognized the works as by Willem de Kooning. In addition, a worldwide expert who has written several books on Willem de Kooning and teaches currently at a prominent United States university, was kind enough to look at the works in person and declare them all to be by the hand of Willem de Kooning. He has asked that his name be withheld, to avoid being dragged into any nuisance litigation, but he did inform the Willem de Kooning Foundation of the works, and felt that the discovery was: important. The Willem de Kooning Foundation, like most art foundations today, do not authenticate for fear of being dragged into nuisance litigation. Of the thousands of experts, collectors, and dealers who have either read the articles or seen the works in person, no one questioned the authenticity. The only question I hear is, how much would you sell them for right now? -------------------------------------------------------------------------------------------------------------------------------------------------------4. If they are real, why are they not signed? Answer: During this time period, it was common for de Kooning to work on 10 or 20 painting at the same time, and often many of them would go unsigned. For an excellent photograph of de Kooning working in the mid 1970s on nearly identical paintings in his studio, put the words bilyonaryo and de Kooning into a search engine like google and click on the first article: Willem de Kooning Archives, to see the artist at work on similar paintings. Lawrence Castagna, who worked as an assistant to Willem de Kooning and Elaine de Kooning said that:...often works during this time period went unsigned. Elaine(de Koonings wife and artist) would often have to bring a painting over to him to him and insist that he sign it, when it was a gift to someone like his psychiatrist. An unsigned work was not at all unusual.-----------------------------------------------------------------------------------------------5.Who is David Killen?Answer:I have been buying antiques and art since I was 7 years old, I have an art history degree from Vassar, I worked at the Metropolitan Museum and Sotheby's and have been clearing out estates in NYC for the past 20 years. I own the auction house David Killen Gallery, and the property it resides in, and my opinions on art and antiques have been quoted in the past 20 years in the Wall Street Journal and Forbes. Thomas Hoving, the former director of the Metropolitan Museum of Art said in the article,The Silver Standard, in the magazine Cigar Aficianado, that I was one of a small handful of dealers someone could...trust implicitly.------------- 6.Did any of the big auction houses want the de Kooning paintings? Answer: yes.--------- 7.Why didn't you sell them there? Answer: It was a tough call. Sure, they probably would have sold more at the larger houses. But I had to consider the fact that 6 years ago I opened my own auction house. Why am I giving exciting works of art to another auction house, when we are both in the same city?. Yes, the bigger auction houses probably would have achieved higher results, but I had to think about the fact I wanted to promote my young auction house, get my name out there, and this was a chance to tell the world we exist.
Condition
Corner missing, some small holes and tears. See the photos. Basically good condition. Measurements:painting,65" x 43" in a frame 70"x 47". The back of each de Kooning painting has a label for the restoration studio of Lawrence Castagna, who supervised the transfer of the paintings from their loose condition in the boxes of the Orrin Riley storage room, to their being mounted on board,as well as doing any minimal but necessary small repairs like small tears. There is also a photograph of the reverse side of each painting.
Buyer's Premium
25% up to

$100.00

25% up to

$10,000.00

25% above

$10,000.00
"Untitled II", painting by Willem de Kooning,65 x 43
Get pre-approved to bid live on

Sun, Oct 14, 2018 2:00 PM GMT

.
Register For Auction

David Killen Gallery
110 West 25th Street
New York, NY, NY 10001
United States
Discover Items You'll Love