Weekly Auctions of Exceptional Items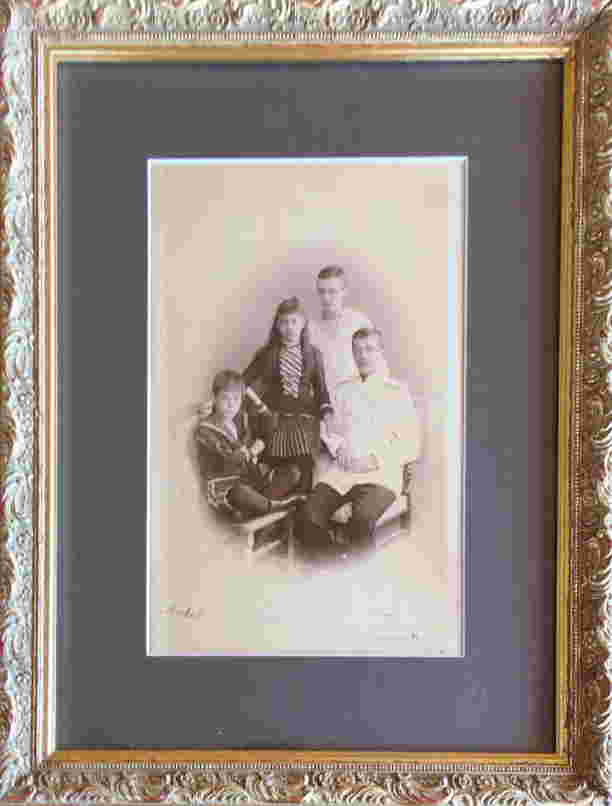 RUSSIAN IMPERIAL ROMANOV FAMILY: An exceptional and very rare vintage signed 7.5 x 11.5 photograph, individually signed by four of the five children of Emperor of Russia Alexander III comprising, Tsar Nicholas II (1868-1918) Last Emperor of Russia 1894-1917. Assassinated by the Bolsheviks together with his wife the Empress and his five children, the four Grand Duchesses and his son the Tsarevich. His assassination put an end to Russian Empire after four centuries. Grand Duke George Alexandrovich of Russia (1871-1899) A much beloved member of the Imperial family. When in November 1894, the Emperor Alexander III died, Nicholas became Emperor, but at that time he had no children, thus according to the laws of succession of the Russian Empire, the Grand Duke George became Tsarevich. George died at the very early age of 28, after nine years ill with tuberculosis. Grand Duchess Xenia Alexandrovna of Russia (1875-1960) Elder daughter of Emperor Alexander III. Grand Duchess Xenia was the mother-in-law of Felix Yusupov and cousin of Grand Duke Dmitri Pavlovich who, together, killed Grigori Rasputin. Her grandson Prince Andrew is a head of the Romanov family since 2016. Grand Duke Michael Alexandrovich of Russia (1878-1918) Youngest son of Emperor Alexander III. After the assassination of his grandfather Alexander II in 1881, he became third-in-line to the throne and, in 1894, after the death of his father, second-in-line. When his brother George died in 1899, Michael became heir presumptive until 1904 when the son of Nicholas II was born. Nicholas abdicated on March 1917 in favour of his son, but few hours after reconsidered his decision and Michael was named as his successor instead of Nicholas´son Alexei. On 16th March 1917 Michael was proclaimed as ''Emperor Michael II'' to Russian troops and in cities throughout Russia. Michael was Emperor for few hours. He would however deferred acceptance of the throne, and was never confirmed as Emperor. Following the Russian Revolution of 1917, he was imprisoned and murdered. The image depicts the Romanov Family in a group full length pose, Nicholas wearing a navy uniform, while George and Michael wear sailor suits. The future Tsar and Michael seated, George and Xenia standing. Xenia holds an arm of her elder brother Nicholas. Photograph by the Imperial Russian Court photographers Levitsky & Son, Nevsky 28, Saint Petersburg, and bearing their embossed gilt name to the verso. Signed in dark ink ('Nicolas') by Tsar Nicholas II who adds beneath his signature the place and date `Gatchina, 24th October 1886´ in his hand, and also signed 'George', `Xenia´ and `Michel´ to the lower part of the photograph by each of the Romanov children also with their names alone in dark fountain pen inks. Elegantly matted in brown, professionally framed in gilt ornated wood and glazed with anti-lightning glass, to an overall size of 13.5 x 18. Also glazed to the verso allowing the view of the photographer´s embossed name. VG £10000-15000 Only Grand Duchess Olga Alexandrovna, last child of Emperor Alexander III, is missing in the present photograph. At the time the present photograph was signed Grand Duchess Olga was only four years old.
RUSSIAN IMPERIAL ROMANOV FAMILY:
Estimate

€11,000

-

€18,000
Get pre-approved to bid live on

Thu, Nov 22, 2018 8:00 AM GMT

.
Register For Auction

International Autograph Auctions Europe S.L.
Urbanizacion El Real del Campanario, Esc. 12, Bajo B
Urbanizacion El Real del Campanario, Esc. 12, Bajo B
Marbella (Malaga), 29688
Spain
Discover Items You'll Love