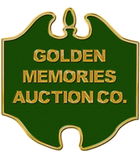 Greg Peters, the owner and auctioneer, has been in the antiques and auction business for 30+ years. Greg has appraised thousand of Antiques, participates in museum "Road Shows", and is a multi-state licensed and bonded Auctioneer and Real Estate Broker. Location: Golden Memories Auction Company is located in the beautiful northeast Georgia mountains in the community of Mountain City: Directions Service: Golden Memories Auction is a full service auction company and appraisal service. Our 50,000 square foot facility features two auction galleries, computerized clerking and accounting, as well as plenty of parking.
Upcoming Auctions from Golden Memories Auctions
has no upcoming auctions. auctioneer to hear about new auctions.
Record Auction Results for Golden Memories Auctions
See All