Weekly Auctions of Exceptional Items
CNY Militaria & Collectibles Auctions LLC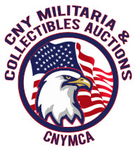 CNY Militaria & Collectibles Auctions LLC
331 Followers
CNY Militaria & Collectibles is a veteran owned company originally founded in 2003 and has since become a well-known name associated with top quality US Militaria offered at fair prices. Our primary methods of offering military antiques were through venues such as our website, eBay, Facebook, direct to collector, and at various national and local military shows. In 2020, we decided to branch out and create an online-only auction platform. For years, we have bought entire collections from collectors and dealers looking to move onto other interests or retire from collecting. The frequency with which we are offered collections to buy has increased and we needed a new medium to facilitate these liquidations while continuing to offer premium pieces. Additionally, having participated in live auctions for years, we found aspects that we can improve upon to create a better experience for both consignors and bidders alike. CNY Militaria & Collectibles Auctions (CNYMCA), is poised to become one of the most competitive and well performing auction companies available to collectors and dealers. We accept consignments of single pieces or entire collections at seller commission rates that are lower than most in the auction industry, ranging from 5-15% depending on the final sale price, with special discounts for large collections or highly valuable items.
Upcoming Auctions
Reviews
Past Auctions
Upcoming Auctions from CNY Militaria & Collectibles Auctions LLC
CNY Militaria & Collectibles Auctions LLC has no upcoming auctions.

Follow this

auctioneer to hear about new auctions.
Bidder Reviews for CNY Militaria & Collectibles Auctions LLC (34)
8 Latest Top ReviewsSee All
Michael
Irvine, California
Cris
New Kensington, Pennsylvania
Very good items
Very happy with purchase and very friendly and even sent me tracking number and I never asked! Also very fast shipping!
Accurate description-fast delivery
Accurate description-fast delivery
An incredible company!
CNY Militaria is one of the best auction houses out there-incredible items and very helpful service!
Garrett
Mcguire Air Force Base, New Jersey
Michael
Bedford., United Kingdom
Simple and Efficient International Sales
There are always concerns when buying from a company you have never previously dealt with, and the more so when that company is overseas, but CNY made the whole thing as simple and straightforward as it could possibly be. I very much hope to deal with them again.
Jeffrey
Tupelo, Mississippi
Past Auctions from CNY Militaria & Collectibles Auctions LLC
Started Mar 27, 2021 10:00 AM EDT
Jamesville, NY
Started Nov 21, 2020 11:00 AM EST
Jamesville, NY
Started Aug 08, 2020 11:00 AM EDT
Jamesville, New York