5: MAURIZIO CATTELAN, Daddy Daddy, 2008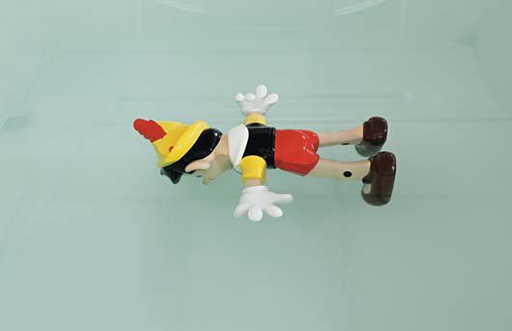 See Sold Price
Don't Miss Your Next Treasure.
Set up a search alert to hear when Teddy Bears & Stuffed Animals items arrive.
Auction ended on May 10th, 2012 UTC
5: MAURIZIO CATTELAN, Daddy Daddy, 2008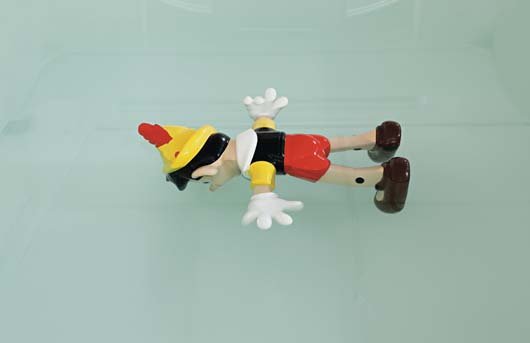 Daddy Daddy, 2008. polyurethane resin, steel, and industrial epoxy car paint with UV protection 43 x 38 x 15 in. (109.2 x 96.5 x 38.1 cm)This work is artist proof one from an edition of three plus two artist's proofs, and is accompanied by a certificate of authenticity.Ο

PROVENANCE Marian Goodman Gallery, New York
EXHIBITED New York, The Solomon R. Guggenheim Museum, theanyspacewhatever, October 24, 2008 – January 7, 2009 (another example exhibited) New York, Sotheby's, Divine Comedy, September 20 - October 19, 2010 New York, The Solomon R. Guggenheim Museum, Maurizio Cattelan: All, November 4, 2011 - January 22, 2012 (another example exhibited)
LITERATURE N. Spector, Maurizio Cattelan: All, New York, The Solomon R. Guggenheim Museum, 2011, pp. 3, 239 (another example illustrated)
When I think of a sculpture, I always imagine it like that, far away, in some way already dead. It has always surprised me when people laugh at some of my art works: maybe in front of death laughter is a spontaneous reaction. MAURIZIO CATTELAN (Maurizio Cattelan in "Killing Me Softly: A Conversation with Maurizio Cattelan," interview with Giancarlo Politi et al, Flash Art (International edition) 37, no. 237, July-September 2004, p. 92). With the monumental success of his recent retrospective at The Solomon R. Guggenheim Museum, Maurizio Cattelan has established himself as one of the most eloquent, unique, and distinctive voices in contemporary art. At once tantalizing and disturbing, spiritual and irreverent, Cattelan's practice explores the paradoxes of contemporary culture. Employing imagery and icons to ironic and often humorous ends, as in the present lot's use of the fictional and famous character Pinocchio, Cattelan infiltrates and probes the quotidian perceptions of the viewer's consciousness. Originally conceived for the acclaimed exhibition theanyspacewhatever, curated by Nancy Spector at The Solomon R. Guggenheim Museum in 2008, Daddy Daddy, 2008, is a sculptural rendering of the beloved protagonist in Walt Disney's Pinocchio. Installed within the elliptical fountain on the ground floor of the Frank Lloyd Wright rotunda, it served as a visual introduction to the monumental group exhibition that included works by Liam Gillick, Douglas Gordon, and Philippe Parreno. The exhibition united this diverse roster of artists through a theme that revisited the early modernist impulse to conflate art and life. The works included were deemed experiential, situation-based pieces rather than representational objects. The exhibition model—in essence, a spatial and durational event—has evolved to become, for these artists, a creative medium in and of itself. Each work was site-specific and included installations that challenged and extended beyond the conventions of museum practice. As seen in Daddy Daddy, 2008, the floating Pinocchio engaged with the unique and spatial dynamics of Frank Lloyd Wright's architecture. The spiraling ramps in the rotunda were no longer only awe-inspiring, but their trepidation has been realized in the tragic fate of the wooden boy. Here, Cattelan creates a terrifying twist on site-specificity. The floating Pinocchio in the crystal clear water served as a real-life rendering of one of the Disney story's most terrifying moments. Installed in the exhibition, the sculpture implies that the puppet had plummeted to his death from the spiraling ramps of the museum. It is unknown to the viewers whether he was a victim of foul play, an accidental fall,or a suicidal leap. Unlike the fairytale ending in which Pinocchio is resurrected as a real boy, Cattelan's Pinocchio does not find his happy redemption. The title "Daddy Daddy" evokes the repetitive plea for help, yet the cry goes unanswered. Cattelan's rendering bears all of the characteristic marks of the classic Pinocchio from his eponymous Disney film. In its lustrous surface, vibrant hues, and rounded form, comprised of polyurethanic resin, steel, and industrial epoxy car paint, Daddy Daddy, 2008, is an exact replica of the Disney character. His face is plump and sweet, with sparkling blue eyes and a button nose, destined to grow should he tell a lie. As the viewer will remember, Pinocchio plays the hero by rescuing both his father and Jiminy from the ravenous whale, Monstro, but not without tragically drowning, eliciting the image from which Cattelan bases his original installation. The present lot, Daddy Daddy, 2008, also functions as a veiled self-portrait of its maker; compare Pinocchio's protruding nose with Cattelan's characteristic facial feature, as well as their shared Italian heritage. The title, however, also suggests a religious reading. According to the artist, the phrase "Daddy, Daddy" refers to Christ's last plea on the cross, as recorded in the gospels of both Matthew and Mark: "My God, my God, why have you forsaken me?" Here, Cattelan draws a parallel between the Disney story and that of Christ: a father gives life to his son, who must then sacrifice his life for his father to survive. That Cattelan's puppet landed in a body of water with his arms outstretched, crucifix-like, visually serves to promote this interpretation of the work. Cattelan's notoriety as a provocateur and prankster is rooted not only in sensationalist mischief, but also in the artist's own child-like quest for validation. For his first solo exhibition in 1989, Cattelan's disappointment with his output precipitated his replacement of all the intended works with a simple placard on the outside of the locked doors, which read, Torno Subito, "Be back soon." Yet this fear of failure, originally the whim of a young artist, has become one of the defining tropes of Cattelan's career. In 1992, the night before anopening, Cattelan filed a false police report claiming his works had been stolen. The next morning he displayed the police report as the centerpiece of the exhibition. Then in 1996, he stole works from another gallery and claimed them as his own, titling the piece Another Fucking Readymade. The use of Pinocchio in Daddy Daddy, 2008, serves as a witty surrogate for the artist himself. Like the character of Pinocchio, Cattelan has admittedly shared his fear of rejection. "My work can be divided into different categories. One is my early work, which was really about the impossibility of doing something. This is a threat that still gives shape to many of my actions and work. I guess it was really about insecurity, about failure." (Maurizio Cattelan from "Nancy Spector in Conversation with Maurizio Cattelan," in Maurizio Cattelan, 2003, p. 9). In 2011, the Solomon R. Guggenheim Museum rotunda was once again invaded and reinvented by Cattelan; in the exhibition Maurizio Cattelan: All, the present lot, Daddy Daddy, 2008, was rigged from the ceiling of the museum in a retrospective of the artist's oeuvre. All the works, secured and suspended with thick white ropes and metal armature, hovered midair in a massive chandelier of suspended animation. With a levitational twist, the en masse installation offered a profound meditation on mortality, the core of Cattelan's practice. His renowned use of taxidermy, as seen in Love Saves Life, 1995, Novecento, 1997, and Tourists, 1997, presents a state of illusory life. Even more poignant than the stuffed animals are his examples of anthropomorphic installation; in Bidibidobidiboo, 1996, a squirrel has committed suicide with a miniature revolver in his sordid kitchen. Like Daddy Daddy, 2008, a loveable creature meets an untimely, yet darkly comic end. It is as if Death stalks these characters. In the present lot's original installation in 2008, Cattelan's beloved hero lying at the base of the rotunda was perhaps ultimately foiled by the fear of his unauthentic existence. However, exhibited in All (re-enacted in the same space as theanyspacewhatever, 2008-2009), Cattelan proffers a new end to Pinocchio's story. Instead of meeting a watery grave, Daddy Daddy, 2008, floats amidst the totality of the artist's epic body of work, hovering between the throws of death and the promise of deliverance.
Starting Bid
$1,800,000.00
Buyer's Premium
25% up to

$50,000.00

20% up to

$1,000,000.00

12% above

$1,000,000.00
Discover Items You'll Love