lots of lots
Welcome to the world's largest marketplace for fine art, antiques & collectibles.
137: CUEVAS, JOSE LUIS, Mexican b. 1934,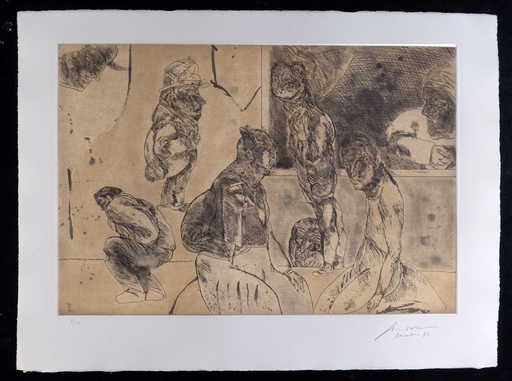 See Sold Price
Don't Miss Your Next Treasure.
Set up a search alert to hear when Art items arrive.
Auction ended on May 9th, 2012 UTC
137: CUEVAS, JOSE LUIS, Mexican b. 1934,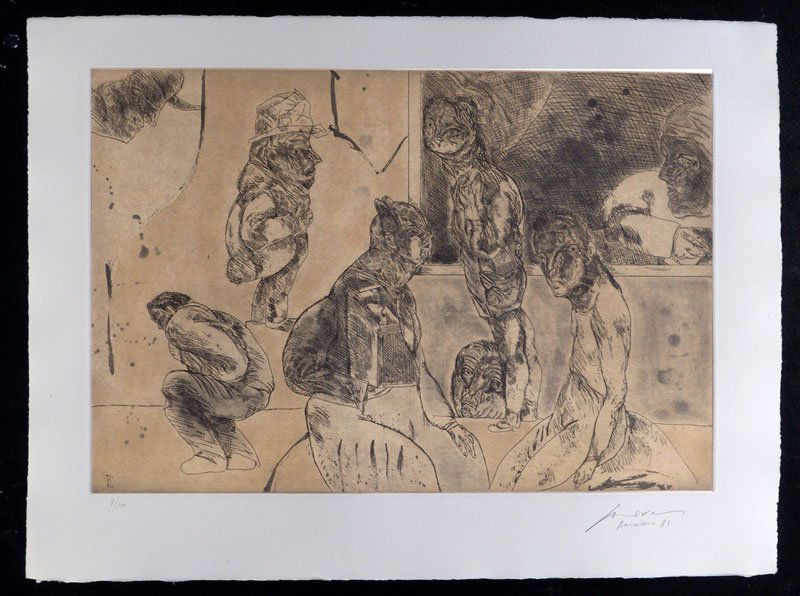 Title: "El Cuarto Amarillo" from the Barcelona Suite,
etching in colors on Guarro,1981, signed and dated in lower right by the artist, numbered 8 from an edition of 100, Published by Ediciones Poligrafa, Barcelona, ,
Size info: ,sheet: 22 x 30 in (57 x 76 cm) , ,
Framing: Sold unframed,
,
,
,
,
click thumbnail here for larger photo. [removed] ,
Condition
,In excellent condition, the full sheet.,
Buyer's Premium
25% up to

$100,000.00

25% above

$100,000.00
Shipping
Buyer Pays Shipping Cost. Shipping is the responsibility and obligation of the successful bidder. Prompt attention to resolving shipping arrangements is expected after notification of the invoice due. In many cases Creighton-Davis will be able to handle all shipping arrangements, however shipping is the responsibility of the buyer. We cannot guarantee a specific delivery time as shipments are handled on a first in, first out basis. We do not ship on any credit arrangement with another shipping account and all shipping fees must be paid in advance before release of purchases. You are free to arrange your own shipping. We cannot guarantee to be able to handle every situation. Our standard procedure is to ship with an insured and traceable shipping service such as UPS or DHL for overseas shipments. Local post office shipping, particularly overseas, can be unreliable and incur delays. For shipments out of North America, you should expect a minimum charge of 90. Requests for shipping quotes will be answered as time permits and within a certain range of prices as actual shipping price will be dependent on a variety of factors including final price paid due to variable insurance fee.
Payment
Payment arrangements along with a link to your invoice are detailed in an email which you will receive within two business days after the auction from an email from Creighton-Davis Gallery at john.rareartgmail.com or from the liveauctioneers platform. For additional information on the payment options, please go to our website. Creighton-Davis Gallery does not accept Paypal or American Express. However Visa, Discover and Mastercard accepted up to a limit of 500 per invoice.
Accepted payment methods
About Us and Security Notes:
Creighton-Davis Gallery is an established fine arts gallery dealing in estates, collections, artist's studios, museum deacquisitions and other primary and secondary sources for works of art. We have been auctioning guaranteed authentic fine art on the internet since 1996, probably the oldest internet auction offering guaranteed authentic fine art. Our works are sold with detailed authentication information and come with a signed photo certificate of authenticity for your use in documenting and insuring your fine art collection. Additional details on the warranty, probably the most comprehensive in the auction world is provided in the Terms and Conditions section.brbrDue to increased security concerns, bidders are requested to contact us through our main site or through the email from www.liveauctioneers.com. Similarly you will only receive emails from the auction with an address of xxx.rareartgmail.com or through the liveauctioneers email system. If in doubt call us direct at 202-489-5300 or send an email to the administrator using the address john.rareartgmail.com. For customer references, see the client feedback link our website.
Taxes
Lots paid for and picked up at our gallery or shipped within the state of California incur 7.75% state sales tax. Works shipped out of state do not incur sales tax. Works shipped out of the country may incur import taxes and duties levied by the importing country-which are the responsibility of buyer. Please check with your local shipping experts for these details. California dealers must have proof of California sales tax license on file.
Additional Note on Shipping
Photos at our main site are usually available which may be enlarged for detailed examination of condition. PLEASE READ TERMS AND CONDITIONS AND FULL DESCRIPTIONS. MOST OF YOUR QUESTIONS WILL BE ANSWERED IN THE INFORMATION SUPPLIED. WE ARE UNABLE TO ANSWER ALL SHIPPING QUOTE QUESTIONS, BUT WILL DO OUR BEST TO PROVIDE A ROUGH ESTIMATE. PLEASE SEE SHIPPING DETAILS FOR MORE INFORMATION.brbrNote: Creighton-Davis operates a live auction in real time which begins promptly at 8 PM E.S.T. and continues in the order of the lot numbers(starting with lot 101) with each lot's closing time at the time the last bid is received.brAs the auction proceeds very fast, it is advised that advance bids be placed using the bidding system at each lot description, by email, or through our main website, as bidding live can sometimes be interrupted by web filters, server inertia or other delays. For important lots, buyers are urged to arrange a phone bid or bid direct at our main site.brbrPlease contact us direct if you have not been approved by liveauctioneers or need to register late directlybrbrDescriptions usually cover the condition of the work in some detail. Larger, more detailed photos may usually be found on our home website. Please bid promptly if you are a live bidder as the auction moves very fast.
Terms
An auction is a recognized legal contract between buyer and seller. The bidder, by his bid, extends a legally binding offer to buy the item offered. The auction, as seller, if the buyer's bid is acceptable, enters into a contract to sell. All normal provisions of contract law apply to enforce these arrangements. Please read the descriptions of each auction lot carefully as well as the Terms and Conditions detailed below before bidding. Know what you are bidding on! BUYER'S PREMIUM: Please Note: Buyer's will be charged a 25% buyer's premium. 1. GUARANTEE OF AUTHENTICITY: This is not a "buyer beware" auction. All works are guaranteed authentic as follows: a. Author: Each work offered and sold is guaranteed to be that of the author identified in the BOLD TYPE introduction at the beginning of each lot number description. Authorship means creator of the artwork or originator of the art or concept portrayed and may refer to a period, culture or other source or origin. "Attributed" authorship means that in the best judgment of the auction house the work is by the artist named, but authorship is not known for certain. Thus attributed works are specifically exempted from the guarantee of authorship. "After" means that the work was created by another hand after another work by the author identified in the BOLD TYPE introduction and is covered by the guarantee. Ancient artifacts and related items are covered by a specific guarantee provision noted on each lot. b. Signature: Each individually written signature is guaranteed to be the authentic hand written signature of the person whose name appears in the signature, i.e. not a counterfeit or forgery, unless specifically exempted or qualified. c. Descriptions: Other descriptive material is presented for information only and while prepared with the intention to be as complete and accurate as possible is explicitly not covered by the guarantee. Notification concerning a breach of warranty must be made within 30 days of auction and returned within 14 days of notification. In case of dispute, the auction may request collaborating statement of fact concerning the breach of guarantee from a knowledgeable art professional. Works returned must be in the same condition as sold and should be shipped with appropriate insurance. All communications should refer to the registration code number which is at the end of each description in the auction catalogue. 2. REFERENCE: The term "reference" used in conjunction with lot descriptions refers to standard texts which list and describe and often illustrate the known works of an artist and usually define whether the works are original or reproductive. Unfortunately not all artists are so catalogued, and others incompletely so. In addition, such reference works do not list works which have been produced since the catalogue was written. 3. FRAMING AND CONDITION: Works sold are sold as is where is. Works before 1900 are in good condition for their age and any important damage is described. Such works should be carefully inspected before bidding. Most works can be inspected through the internet images in fairly minute detail. If you need further condition information contact us directly by e-mail, phone or fax. If the lot description does not mention condition, then the condition of the work is very fine. "Conservation Framed", when found in a lot description, means that the work is framed with accepted conservation standards including acid free mounts and removable hinges. Auction staff can advise on the framing technique for a particular work as well as any other condition reports requested, time permitting. Many works were photographed with transparent plastic corners which appear as Grey triangles in internet photos. These are not defects. You may assume what you see under the grey/transparent corners is the condition of the actual work. 4. ESTIMATES: Auction estimates refer to a fair auction price. All estimates, however, represent auction staff opinions. While many works will be sold under estimates, many also will be sold over the estimates. Bidders should keep in mind that through the internet bidding process, you will purchase at the lowest possible price subject to the interest of other bidders (see section 6 below). 5. BIDDING AND RESERVES: Bidding will be in reasonable increments as befits the price of the work offered. The auctioneer reserves the right to reject any or all bids and is the final judge in case of dispute. Works may be offered subject to a reserve, a price below which no bids will be accepted. In no case will the reserve be above the low auction estimate. Internet and other absentee bidders should adhere to the posted bid increments. (No work will be sold to a floor bidder between increments if there is an absentee bid or internet bidder on the lot.) In a "blowout auction", reserves will be no higher than the high estimate. 6. INTERNET AND OTHER ABSENTEE BIDS: Bidding may be by advance bidding at our website and liveauctioneeers.com Bids may also be offered by those unable to attend the auction in person through the internet bidding forms for each lot and/or by fax or phone. Such bids will be executed just as if you were bidding in person. Your bid will be used as an upside limit with the auction bidding on your behalf until the other bidders quit bidding or your limit is reached, whichever comes first. In no case will you be charged more than your bid limit (plus the 25% buyer's premium). You will be notified promptly if your bid is successful. 7. PAYMENT: Prompt payment is expected after notification of a successful bid. Payment may be by check or cash(In House Only), or bank transfer. Credit cards may be honored up to a limit of $500 per invoice. (Visa, Mastercard, Discover only are accepted). All works must be paid for before removal or delivery. Checks must clear before shipment. Bidders failing to clear their invoices promptly may have a bidder dispute filed against their account. 8. SHIPPING: Shipping is the responsibility and obligation of the buyer. Creighton-Davis will be happy to assist you with your shipping arrangements and may be able to handle many shipments in-house. However we cannot guarantee a specific delivery time as shipments are handled on a first in, first out basis. We do not ship on any credit arrangement with another shipping account and all shipping fees must be paid in advance before release of purchases. You are free to arrange your own shipping. 9. Works may be withdrawn from the original listings at any time and for any reason, and if not delivered to the buyer after payment, may be exempt from the contract terms of the auction. 10. Auction reserves the right to refuse bids or registrations from any individual or other interest for any reason. Creighton-Davis Gallery Box 2322 Carlsbad, California 202-489-4300
Discover Items You'll Love

Bid Anywhere, Anytime. Download the LiveAuctioneers App.
Available on the App Store
Android App on Google Play