99: Vietnam Zippo Lighter Collection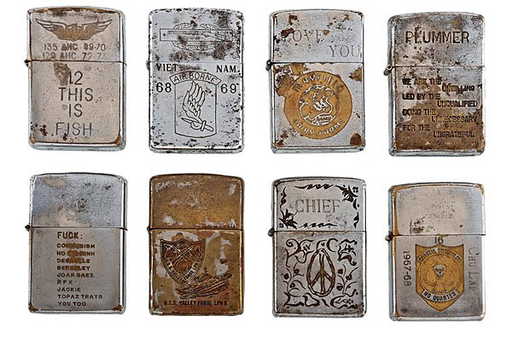 See Sold Price
Don't Miss Your Next Treasure.
Set up a search alert to hear when Lighters items arrive.
Auction ended on June 21st, 2012 UTC
99: Vietnam Zippo Lighter Collection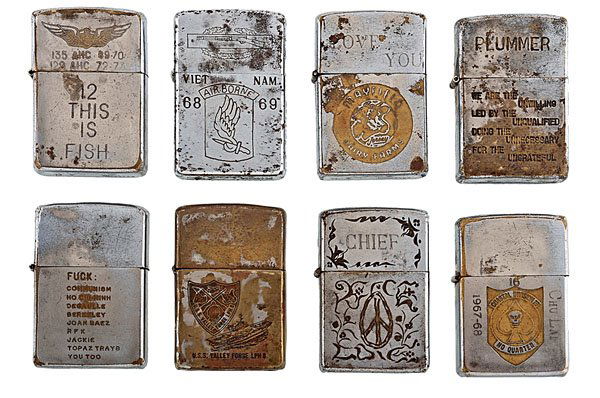 Vietnam Zippo Lighter Collection 

Lot of 282 Vietnam War-era Zippo lighters featuring personalized and anonymous engravings chosen by U.S. soldiers, sailors, and airmen during deployment. The collection has been compiled individually by American artist Bradford Edwards over several years in the 1990s, on-site in Vietnam.
 
Edwards, who said in an NPR interview on the collection I'm not a Zippo collector; I'm not somebody into the Zippo, per se, explains that he is fascinated with the lighters as window in the minds and experiences of the men experiencing a certain place and time.  He has used the lighters as inspiration and media in his art, but the collection itself has grown to be a statement of its own, and became the basis of the book Vietnam Zippos: American Soldiers' Engravings and Stories 1965-1973 (Sherry Buchanan, University of Chicago Press, 2010), which was spotlighted by New York Times, NPR, and other media outlets.  The lot includes all lighters featured in that book and more.
 
Edwards estimates that he has examined tens of thousands of Vietnam Zippos.  As Vietnam has evolved into a more modern and open nation in the last 20 years, foreign tourists have driven a growing market in the mementos, leading to an explosion in fakes.  Edwards proclaims there are no real Zippos in Vietnam now. The scene is over.  James Fiorella, author of The Vietnam Zippo (Schiffer Publishing, 1998) and probably the only authority on the subject with an expertise equal to Edwards, agrees, and warns collectors that over 95% of Zippos being sold in the open-air markets of Ho Chi Minh City and Ebay alike are fakes. 
 
Edwards was careful not to target specific sentiments or designs in the engravings, but simply to seek out authenticity and let the objects speak for themselves.  As such, the lighters capture a wide range of feelings and opinions about the war, from the obscenity-laden anti-army mottoes of the unwilling draftees, to the simple love notes of the homesick, to the 8 Special Forces emblazoned lighters, conspicuously absent of any further embellishment. 
 
The Vietnam War represented something different than all other American Wars, previous and since.  There were the regular army soldiers, many raised by World War II heroes and viewing their job as a duty and privilege.  There were victims of fate, the unwilling, drafted by lottery, many poor and minority, resentful of their government and military superiors.   And there were those along for the ride, not interested in glory or politics, merely trying to follow orders and earn their ticket home.  Regardless, they were all connected by the Zippo, the utilitarian tool carried by nearly all soldiers since World War II, a symbol of dependability and the rare thing that all soldiers could count on.  Used for lighting cigarettes, heating food, illuminating letters from home, or setting fire to huts of suspected VC, Zippos were used so frequently in Search & Destroy missions that GIs nicknamed them "Zippo Missions" or "Zippo Raids." After purchasing one from the post exchange store for $1.80, a soldier could personalize his lighter at sidewalk tents with one of wide selection of stock designs or a personalized message.
 
 
 
Many messages, especially those chosen by pre-draft in the 1960s, are related directly to combat.  Some feature the emblems of proud and storied units, often complemented by macho mottoes exhibiting the pride and hubris of soldiers willingly fighting in the world's strongest army:
 
DEATH FROM ABOVE.
SWIFT, SILENT, DEADLY
WHEN GOD OPENED THE GATES OF HELL, THE 101st WALKED OUT
DEATH IS MY BUSINESS, AND BUSINESS HAS BEEN GOOD.
YEA THOUGH I WALK THROUGH THE VALLEY OF THE SHADOW OF DEATH I WILL FEAR NO EVIL FOR I AM THE EVILEST SON OF A BITCH IN THE JUNGLE
KILL THEM ALL LET GOD SORT THEM OUT
STOLEN FROM A GOOK 5-11-67
35 KILLS IF YOU ARE RECOVERING MY BODY FUCK YOU
SOCK IT TO ME
GIVE NO QUARTER
YOU CAN SURF LATER
 
As the debate about the war intensified back home, soldiers became disillusioned with their mission, and the draft lottery injected a fresh force of often unwilling troops, the inscriptions evolved.  Peace signs, psychedelic designs, and cartoon characters became prevalent.  Charles Schulz' Peanuts characters were a popular choice, as many soldiers identified with Snoopy's fight against an imaginary enemy, the Red Baron:
 
LIFE HAS A FLAVOR THE PROTECTED WILL NEVER KNOW
FUCK IT
WHEN I DIE BURY ME FACE DOWN SO THE WORLD CAN KISS MY ASS
PLEASE DON'T TRY TO TELL ME ABOUT VIETNAM I'VE BEEN THERE
WHEN THE POWER OF LOVE IS AS STRONG AS THE LOVE OF POWER THEN THERE WILL BE PEACE
I LOVE THE FUCKING ARMY AND THE ARMY LOVES FUCKING ME
WE THE UNWILLING LED BY THE UNQUALIFIED DOING THE UNNECESSARY FOR THE UNGRATEFUL
FIGHT FOR PEACE, LIVE FOR WAR, DIE FOR NOTHING
WHEN I DIE I'LL GO TO HEAVEN BECAUSE I'VE SPENT MY TIME IN HELL
WHY ME?
 
While some pondered politics and meaning, others had their minds on the same subjects as many 19-year-old peers in America: sex and drugs.  The Playboy logo and nude women were popular motifs, as was the Zig-Zag man, taken from the packets of rolling papers used to roll the increasingly prevalent joint:
 
A FRIEND WITH WEED IS A FRIEND INDEED
ALWAYS RIPPED AND ALWAYS STONED, I MADE IT A YEAR I'M GOING HOME
 
I'D RATHER SMOKE GOD'S GRASS THAN DROWN IN MAN'S JUICE
ASK NOT WHAT YOUR HEAD CAN DO FOR YOU BUT WHAT YOU CAN DO FOR YOUR HEAD
GIRL IF YOU WANT TO FUCK SMILE WHEN YOU HAND THIS LIGHTER BACK
CANDY IS DANDY BUT SEX WON'T ROT YOUR TEETH
GIVE ME HEAD TIL I'M DEAD
I LOVE SEX SO BABY YOU CAN GIVE YOUR SOUL TO GOD BECAUSE YOUR ASS IS MINE
 
Some of the most powerful are the simplest: dedications to loved ones and hopeful sentiments from those just wanting to make it home alive.
 
I LOVE YOU MARY
TO MOM FROM A LONELY PARATROOPER
I CAME HERE AND LEFT BEHIND A NICE FAMILY AND A WONDERFUL GIRL I LOVE BUT SOMEDAY I WILL GO HOME
 
Together, the lighters tell a story of the war that cannot be found anywhere else.  They are a record soldiers' feelings not meant for anyone but themselves, printed on a throwaway tool, capturing the spirit of the war in a way more authentic than any film, more personal than any history book, and more representative than any single soldier's account.  The Zippo company is scheduled to produce its 500 millionth lighter this summer and will release a commemorative line meant to honor the unique status the simple lighter has earned as a physical symbol of the American experience -- and we dare to say that no grouping is or can be more representative of that sentiment than this.
Buyer's Premium
20% up to

$200,000.00

15% above

$200,000.00
Discover Items You'll Love