lots of lots
Welcome to the world's largest marketplace for fine art, antiques & collectibles.
1353: VINTAGE U-HAUL TOY TRAILER WITH BACK DOOR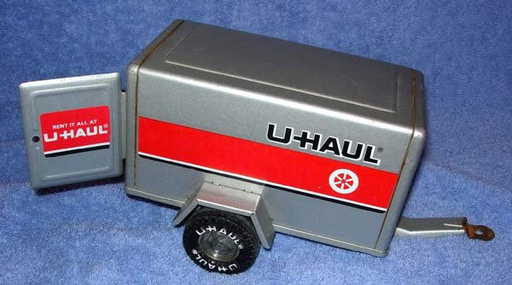 See Sold Price
Don't Miss Your Next Treasure.
Set up a search alert to hear when Collectibles items arrive.
Discover Related Items Available Now
Auction ended on June 3rd, 2006 UTC
1353: VINTAGE U-HAUL TOY TRAILER WITH BACK DOOR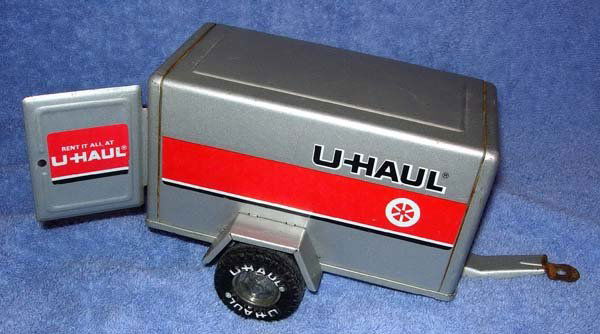 This is a boy trailer from the 1960's and it is U-HAUL TRAILER with their old logo. The wheels are plastic wheels and they also say U-HAUL. There is a hitch, but it is a bit rusty. There is a back door that swings open. There is some very minor rust on the bottom and some minor rust inside the trailer. But otherwise it is in nice shape. No markings on the trailer as to who made this trailer for U-Haul. The trailer box itself measures 6 3/4" by 3". From hitch to back it is 9 3/4 inches long and with the fenders and tires it is 5 1/4 inches wide.
Shipping
Buyer Pays Shipping Cost
Payment
Our preferred method of payment is through Paypal. You may go to www.paypal.com and our paypal address for payment is bobcripplecreek-auctions.com to send payment. Paypal accepts all major credit cards. We also accept money orders and cashier checks for payment as well as personal checks and business checks for payment. All checks may be sent to Cripple Creek Auctions and Appraisals, 6881 S. Race Street, Suite 204, Centennial, Colorado 80122-1524. For personal and business check the items are held until the check clears the bank. For any further questions about payment you may call 720-984-4060.
Accepted payment methods
Terms
TERMS & CONDITIONS OF SALE REGISTRATION: Every person who wishes to bid in our Ebay Live Auctions must first register with Ebay and a legal name, address, phone number and email address must be provided. Each person is responsible for their bids. PAYMENT: Payment for all items purchased through Ebay Live must be made within 10 days after the auction. Confirmation of winning bids must be made within 3 days. Payment may be made by personal check, or business check, in which case the items will be held until the check has cleared the bank (which normally takes 10 business days). Payments may also be made by Certified Check or by Money Order and these forms of payment may be sent to: Cripple Creek Auctions & Appraisals, 6881 S. Race Street, Suite #204, Centennial, Colorado 80122-1524. Or, payment may be made by Credit Card (Visa, Master Card, Discover or American Express) through Paypal. Paypal's website is www.paypal.com and our Paypal address for payments is bob@cripplecreek-auctions.com. All bad checks or insufficient fund checks will be charged a $35.00 fee. SALES TAX: All local, state and federal sales taxes are collected and added to all purchasers from the State of Colorado. Ebay Live bidders who reside outside the state of Colorado will not be charged sales tax. BUYER'S PREMIUM: A standard 15% Buyer's Premium will be added to the final bid price on all items to determine the final purchase price and this Buyer's Premium shall be earned by the Auctioneer at the fall of the hammer or when the Auctioneer says, "SOLD". STATEMENTS: All statements made on the day of the Auction take precedence over any printed or advertised material. A Bill of Sale will be made out to the recorded Bidder only and no transfer will be recognized to another Buyer. Any additional terms or conditions of the sale, added by the Auctioneer, shall be announced prior to the Auction. OWNERSHIP: Ownership title passes upon the fall of the Auctioneer's gavel or when the Auctioneer ays, "SOLD." For Ebay Live Bidders, the Auctioneers will assume responsibility for the items until they are shipped. All Ebay Live Bidders agree to pay all packing fees and all shipping fees and insurance costs. Pre-auction estimates for shipping charges are given, but the high Bidder agrees to pay all actual fees associated with the shipping of items. All items that cannot be shipped via USPS, UPS or DHL because of size or weight will be shipped by a freight company and the Buyer will be responsible for all packing and shipping charges. CONDITION OF ITEMS SOLD: We encourage Ebay Live Bidders to call or email with any and all questions. Ebay Live Bidders acknowledge that they have asked all questions about the items being auctioned. We do not accept an item on consignment without careful scrutiny. If we are aware of a known major defect, we reveal that defect in our description of that item in our catalog. However, during the Auction, the Auctioneer is not responsible to give the condition of each item being auctioned. It is the responsibility of each Buyer to inquire and ask questions about each item being sold. In our description of the item in our catalog or in our online description, every effort is made to give accurate information about the item and its condition. In the event of a gross misrepresentation of any item, a money back refund will be offered. Otherwise, ALL SALES ARE FINAL. ABSOLUTELY NO REFUNDS OR ADJUSTMENTS WILL BE MADE ON ITEMS if we have represented the item accurately and fairly. In regards to condition, grading and authenticity, there is subjectivity to grading, condition and authenticity. Our on-staff Certified Appraisers make every effort to verify the condition, grade and authenticity of each item sold. When appropriate, leading outside authenticators are hired to give their expert opinion. However, even the opinions of experts can vary. Thus, we always try and provide the history of an item as we know it. However, we still encourage each Bidder to obtain information from their own expert of choice as to the condition, grade or authenticity of an item being sold. Appointments are accepted so an expert may examine any item for any potential Bidder. But, after the item is sold, as is the standard procedure for all auction companies, all merchandise is sold "AS IS, WHERE IS" with no warranties, implied or expressed with respect to any grade or condition, or other adjectival description of the item. No warranties are made as to the merchantability of any item or its fitness for any purpose. All measurements are approximate. It is understood and agreed that the Auctioneer is acting as an agent only and shall in no case whatsoever by held liable by either party for the performance of any term or covenant of this agreement or for damages for non-performance thereof. The Purchaser does hereby indemnify and hold harmless the Auctioneer and Seller for any and all damages and claims of any type whatsoever caused during the sale or by the removal of the items purchased. The Auctioneer shall not be liable for non-delivery of any item or lot, other than to return to the Purchaser the deposit or sum paid on said item or lot. DISPUTES: If any dispute arises between two or more Bidders, the Auctioneer may put the item up for sale again and resell it to the highest Bidders, or the Auctioneer may limit the bidding to the parties involved in the dispute. The Auctioneer reserves the right to group one or more lots into one or more selling lots and to add or delete from lots at his or her sole discretion. The Auctioneer reserves the right to bid on items for Absentee Bidders, for Phone Bidders and Ebay Live Bidders. The Auctioneer also reserves the right to reject any and all bids for any reason. The Auctioneer also reserves the right to reject any bid which is only a fractional advance over the preceding bid. In the event that there is a dispute as the amount of the final high bid - it must be understood that all auctions are tape recorded. The tapes will be reviewed at the convenience of the Auctioneer. ITEMS SOLD ON RESERVE: For any item sold on reserve, bids on those items shall be subject to confirmation of the owner if the reserve amount is not reached. The owner may or may not accept the bid at their sole discretion. DEFAULT: In the event the Purchaser fails to pay the whole of the purchase price within the time set forth by the Auctioneer, and/or fails to comply with any of the terms and conditions of the Auction, the Auctioneer may file suit against the Purchaser for damages. The Purchaser agrees to pay any and all charges and expenses incurred by reason of any breach of the terms and conditions of this Auction, including, without limitation, reasonable attorney fees. BID INCREMENTS: All bidding and bid increments are controlled by the Auctioneer and accepted bids are at the sole discretion of the Auctioneer. Cut bids are accepted at the discretion of the Auctioneer. Because many of the Auctions conducted by Cripple Creek Auctions are conducted on Ebay Live in connection with live local auctions, a standardized bid increment schedule is necessary for the on-line bidders. Our standard bid increments schedule is provided to both Ebay Live Bidders and Local Bidders. However, the Auctioneer, at his or her sole discretion may change the bidding increments schedule. SPECIAL NOTES: Every Bidder has been provided with the terms and conditions of the Auction and by Registering through Ebay, each Ebay Live Bidder agrees to the terms and conditions which is a binding contract agreeing to the terms and conditions of the Auction. Furthermore, each Bidder must understand that any bid he or she makes falls under Colorado Auction Law and the Statue of Frauds. All Bidders and others participating in the Auction agree that they have read and fully understand these terms and conditions and agree to be bound thereby. If a Bidder does not agree to the terms and conditions, they must refrain from bidding. Our Terms and Conditions are displayed prominently at all Auctions and on-line through Ebay Live and Live Auctioneers and a signature on this list of Terms and Conditions is not necessary for the legal bindings of the Terms and Conditions outlined. Furthermore, not only are our Terms and Conditions of Sale listed at all Auctions, but a print out of our Terms and Conditions of Sale are available in print upon request.
Discover Items You'll Love

Bid Anywhere, Anytime. Download the LiveAuctioneers App.
Available on the App Store
Android App on Google Play