lots of lots
Welcome to the world's largest marketplace for fine art, antiques & collectibles.
CARDINGTON AIRSHIP SHEDS 1927 PLANS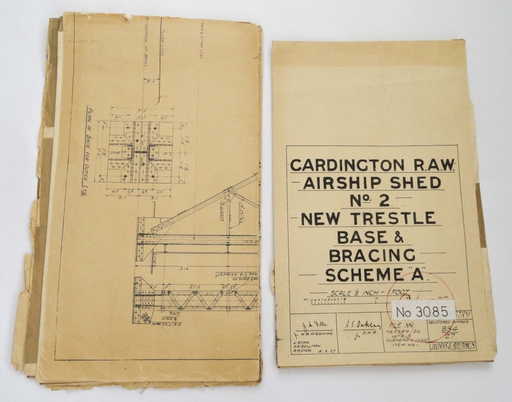 See Sold Price
Don't Miss Your Next Treasure.
Set up a search alert to hear when Collectibles items arrive.
Discover Related Items Available Now
Auction ended on April 26th, 2015 UTC
CARDINGTON AIRSHIP SHEDS 1927 PLANS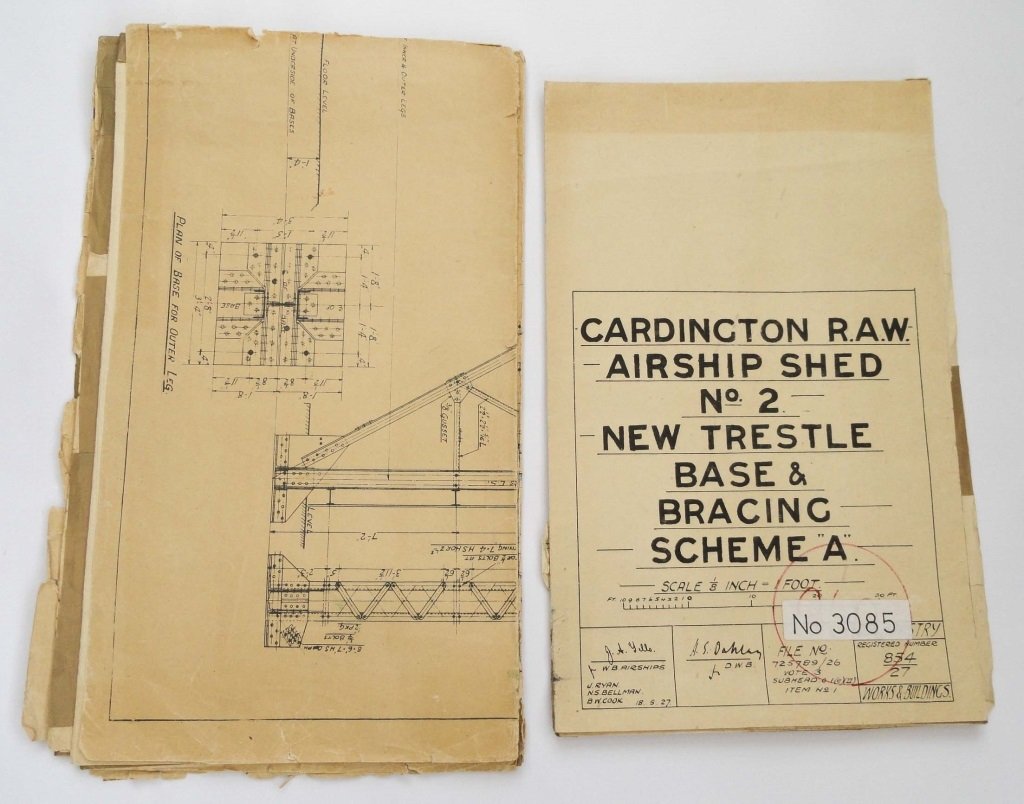 CARDINGTON AIRSHIP SHEDS 1927 PLANS Two plans from the construction of the Airship sheds in Cardington.
Shipping
For most items, we can ship inhouse at a cost of; 1. Â5 per lot to pack and make ready for shipping, 2. insurance (based on the value of the items and ship to address) 3. actual Shipping Cost. (We can ship world-wide using a variety of shipping companies). Or, you, the buyer, can pick up or arrange a third party shipper to pick up your items. No lot will leave the auction house until paid for in full.
Payment
Contact For Payment Details
Accepted payment methods
Terms
1. The Auction is presented by A and J Auctions (The Auctioneer), United Kingdom. Registered office, 6 Lon Y Parc, Mold, CH7 1PT. The Auction is conducted under the following Terms and Conditions and by participation in this auction you (the bidder) accept and agree to abide by these Terms and Conditions. Buyer?s Premium: 2. All bids are subject to a Buyer?s Premium which is in addition to the placed successful bid (hammer) of: ? Eighteen percent (18%) plus VAT for absentee and telephone bids; ? Twenty-one percent (21%) plus VAT for all bids made through any online bidding system (Such as Live Auctioneers, The Saleroom etc.) Please note that VAT is only payable on the buyer's premium and not on the hammer price and only payable for UK residents. Auction Venues: 3. All Auctions are conducted via Internet bidding and absentee bidding only. No live bidders at the venue during the sale. Bidders: 4. All Bidders must meet The Auctioneer?s qualifications to bid. Any Bidder who is not a client in good standing of The Auctioneer may be disqualified at The Auctioneer?s sole option and will not be awarded lots. Such determination may be made by The Auctioneer at his sole and unlimited discretion, at any time prior to, during, or even after the close of the Auction. The Auctioneer reserves the right to exclude any person from the auction. 5. If an entity places a bid, then the person executing the bid on behalf of the entity agrees to personally guarantee payment for any successful winning bid. Bidding Options: 6. Presentment of Bids: Non-Internet bids (including email, phone and mail bids) are treated similar to floor bids in that they must be on-increment or the auctioneer may, at his sole discretion round the bid up or down to the nearest full increment and this revised amount will be considered your high bid. 7. The Auctioneer cannot be responsible for your errors in bidding, so carefully check that every bid is entered correctly. When identical mail or email bids are submitted, preference is given to the first received. To ensure the greatest accuracy, your written bids should be entered on the standard printed bid sheet and be received at The Auctioneer?s place of business at least two business days before the Auction start. The Auctioneer is not responsible for executing mail bids or email bids received on or after the day the first lot is sold, nor Internet bids submitted after the published closing time; nor is The Auctioneer responsible for proper execution of bids submitted by telephone, mail, e-mail, Internet, or in person once the Auction begins. Bids placed electronically via the internet may not be withdrawn unless your written request is received and acknowledged by The Auctioneer; such requests must state the reason, and may constitute grounds for withdrawal of bidding privileges. Conducting the Auction: 8. Consignor?s are not at liberty to bid on their own lots, should a consignor disregard this condition, the auctioneer will require the consignor to pay the full Buyer?s Premium and Seller?s Commissions on such lots won. 9. The highest qualified Bidder recognized by The Auctioneer shall be the Buyer. In the event of a tie bid, the earliest bid received will win. In the event of any dispute between any Bidders at an Auction, The Auctioneer may at his sole discretion reoffer the lot. The Auctioneer?s decision and declaration of the winning Bidder shall be final and binding upon all Bidders. The Auctioneer reserves the right after the hammer fall to accept bids and/or reopen bidding for bids placed through the Internet or otherwise. 10. Auctioneer reserves the right to refuse to honour any bid or to limit the amount of any bid, at his sole discretion. A bid is considered not made in ?Good Faith? when made by an insolvent or irresponsible person, a person under the age of eighteen, or is not supported by satisfactory credit, collectibles references, or otherwise. Regardless of the disclosure of his identity. 11. The Auctioneer at his sole discretion may reject any bid, and may pass the item or may place a protective bid on behalf of the consignor and the lot shall pass as unsold. 12. All items are to be purchased per lot as numerically indicated. 13. The Auctioneer reserves the right to rescind the sale in the event of nonpayment, breach of a warranty, disputed ownership, clerical error or omission in exercising bids and reserves, or for any other reason and at the Auctioneer?s sole discretion. 14. The Auctioneer, its affiliates, or their employees consign items to be sold in the Auction, and may bid on those lots or any other lots. Auctioneer or affiliates expressly reserve the right to modify any such bids at any time prior to the hammer based upon data made known to the Auctioneer or its affiliates. 15. The Auctioneer has the right to sell certain unsold items after the close of the Auction. Such lots shall be considered sold during the Auction and all these Terms and Conditions shall apply to such sales including but not limited to the Buyer?s Premium, return rights, and disclaimers. Payment: 16. All sales are strictly in United Kingdom currency (pounds sterling), and may be made in cash, bank transfer, Cashier cheques, and most credit or debit cards (credit cards carry a 3% charge, Debit cards have no such charge). Payments must be made in full before lots are released. The Auctioneer may require proof of identity before releasing lots and will require a mail, or email release from the named buyer for any lot released to any third party or shipping company. The Auctioneer reserves the right to determine if a cheque constitutes ?good funds?: cheques drawn on a U.K. bank are subject to a ten business day hold. The Auctioneer reserves the right to void an invoice if payment in full is not received in full within 7 days after the close of the Auction. In cases of nonpayment, Auctioneer?s election to void a sale does not relieve the Bidder from their obligation to pay Auctioneer its fees (seller?s and buyer?s premium) on the lot and any other damages pertaining to the lot. The Auctioneer also reserves the right to charge a storage fee of £1.00 per day, per lot, plus VAT for lots not removed after 14 days after the date of the sale. All charges outside of the margin scheme are subject to VAT at the national rate. 17. If any Auction invoice submitted by The Auctioneer is not paid in full when due, the unpaid balance will bear interest at the highest rate permitted by law from the date of invoice until paid. Any invoice not paid when due will bear a three percent (3%) late fee per calendar month on the invoice amount. If The Auctioneer refers any invoice to an attorney for collection, the buyer agrees to pay attorney?s fees, as well as court costs, and other collection costs incurred by The Auctioneer. 18. In the event a successful Bidder fails to pay any amounts due, The Auctioneer reserves the right to sell the lot(s) securing the invoice to any underbidders in the Auction that the lot(s) appeared, or at a subsequent private or public sale, or relist the lot(s) in a future auction conducted by The Auctioneer. 19. Title shall not pass to the successful Bidder until all invoices are paid in full. It is the responsibility of the buyer to provide adequate insurance coverage for the items once they have been delivered to any third party, common carrier or third-party shipper. Delivery; Shipping; and Handling Charges: 20. The Buyer is liable for collection, shipping and handling, of all lots including any relevant paperwork (including import and export licenses). The Auctioneer may, at his discretion ship or arrange shipping of certain items. The Auctioneer takes no responsibility for loss or damage to any item, lot or part thereof, once a lot has been passed to any carrier or third party for shipping purposes. All Lots shipped by the Auctioneer will be shipped in a commercially reasonable time after payment in good funds for the merchandise and the shipping fee is received. 21. Successful international Bidders shall provide written shipping instructions, including specified customs declarations (if necessary), to the Auctioneer for any lot(s) to be delivered outside of the United Kingdom. NOTE: Declaration value shall be the item?(s) hammer price together with the buyer?s premium. 22. All shipping charges will be borne by the successful Bidder. 23. Failure to pick-up or arrange shipping in a timely fashion (within ten days) shall subject lots to storage and moving charges. In the event the Lot is not removed within ninety days, the Lot may be offered for sale to recover any past due storage or moving fees, and any Seller?s Commission. 24. The laws of various countries regulate the import or export of certain plant and animal properties, including (but not limited to) items made of (or including) ivory, whalebone, turtle shell, coral, crocodile, or other wildlife. Transport of such lots may require special licenses for export, import, or both. Bidder is responsible for: 1) obtaining all information on such restricted items for both export and import; 2) obtaining all such licenses and/or permits. Delay or failure to obtain any such license or permit does not relieve the buyer of timely compliance with standard payment terms. 25. The Auctioneer shall not be liable for any loss caused by or resulting from: a. Seizure or destruction under quarantine or Customs regulation, or confiscation by order of any Government or public authority, or risks of contraband or illegal transportation of trade, or b. Breakage of statuary, marble, glassware, bric-a-brac, porcelains, jewellery, and similar fragile articles. Descriptions, Warranties and Disclaimers. 26. Descriptions are provided for each lot on a best effort basis and are not intended to be a definitive scholarly work or appraisal. Conditions provided are only the opinion of The Auctioneer and it is the bidder?s ultimate responsibility to determine the condition of a lot and/or its fitness for any purpose. Unless otherwise described, single item lots are guaranteed authentic (this may not apply to multiple item lots). It is at the discretion of The Auctioneer, to decide whether or not to refund the buyer where there is a dispute over authenticity and a third party ?expert? may be called in to determine the authenticity of an item, any costs involved with this will be borne by the buyer. Returns must be pre-authorized and made within 14 days of receipt of purchase. Gems and Coins are tested and examined for authenticity, and are guaranteed authentic. All guarantees are void if an item is beyond 14 days of receipt or has been tampered with, enhanced, altered in any way, damaged or removed from original mounting. Lots containing MORE THAN ONE SINGLE ITEM of any product are intended as "dealer" lots and are sold ?as seen? with absolutely no exceptions, warranties or guarantees, and the ultimate determination as to authenticity and condition is the responsibility of the bidder. The placing of a bid will be taken as full agreement to all terms & conditions. Any estimated values shown for any lot are The Auctioneer's opinion only and do not necessarily constitute a lots true value. 27. Colour variations can be expected in any electronic or printed imagery, and are not grounds for the return of any lot. 28. The Auctioneer acts as agent for the seller and all sales are between the seller and the buyer. 29. All images, descriptions, sales data, and archival records are the exclusive property of the Auctioneer, and may be used by Auctioneer for advertising, promotion, archival records, and any other uses deemed appropriate. 30. The Auctioneer shall not be liable for breakage of glass or damage to frames (patent or latent); such defects or breakage, in any event, shall not be a basis for any claim for return, recompense or reduction in price. 31. Some items sold by The Auctioneer are inherently dangerous e.g. firearms, weapons, and small items that may be swallowed or ingested or may have latent defects all of which may cause harm to a person. The buyer accepts all risk of loss or damage from its purchase of any of these items and the Auctioneer disclaims any liability whether under contract or tort for damages and losses, direct or inconsequential, to the buyer, his representatives, shippers or carriers and expressly disclaims any warranty as to safety or usage of any lot sold. 32. Acceptance of these Terms and Conditions qualifies a Bidder as a client who has consented to be contacted by The Auctioneer in the future. This consent shall remain in effect until it is revoked in writing.
Discover Items You'll Love

Bid Anywhere, Anytime. Download the LiveAuctioneers App.
Available on the App Store
Android App on Google Play