135: ANDY WARHOL, Brillo Soap Pads Box, 1964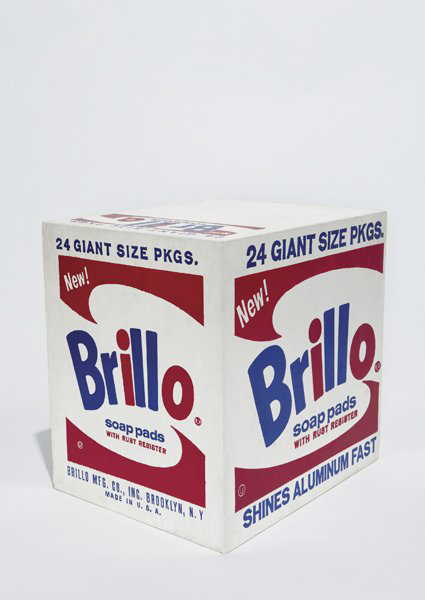 See Sold Price
Don't Miss Your Next Treasure.
Set up a search alert to hear when Vases & Garnitures items arrive.
Auction ended on May 13th, 2010 UTC
135: ANDY WARHOL, Brillo Soap Pads Box, 1964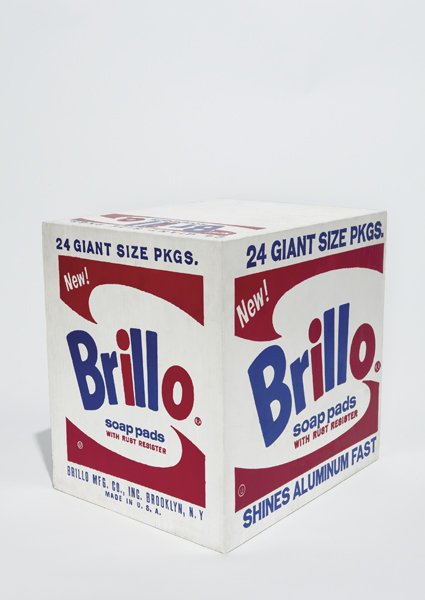 Brillo Soap Pads Box, 1964
Silkscreen ink and house paint on plywood. 17 x 17 x 14 in. (43.2 x 43.2 x 35.6 cm).

Andy Warhol took the mass produced, mass-consumed retail world and turned it into art. What Duchamp did in 1917 with Fountain, Warhol does again with the Brillo Box almost 50 years later. Paying homage to Duchamp and his essential movement in art-history, Warhol revives the Dadaist philosophy by re-creating the everyday object. Essential in every American household, since the use of coal-oven stoves in 1900, Warhol transforms mundane objects into an art form. The original design of the box is one that Warhol would have seen as "POP". The elemental form and primary colors which represent Brillo is a perfect example of an object that screams Warhol. It is also an object that through its re-composition by the artist, Warhol simultaneously transitions the way one looked at art. Through the eyes of Warhol the consumer "everyday" was out and thus would change art-history forever, defining Pop Art and Warhol a forefather of it all. Pop art challenged the tradition of aesthetics by transforming images of mass-produced commodities of popular culture into fine art displayed in a gallery. By completely dislocating the image from its context and isolating it as an autonomous object, a commodity became a receptor of thought and reconsideration. Andy Warhol was the leading figure of this revolution in thought and aesthetics. Pop artists were using paint and mediums in entirely new ways to challenge the essence of art, dripping it, splashing it, and even entirely submerging objects with images in order to cast them in new light. Objects that would normally be ignored for their banality were screaming for attention through their unusual display. It was an attempt to expose the truth of a mass consumer culture. Warhol posed questions that could no longer be ignored. In 1964 Warhol exhibited his first series of Brillo Boxes at a solo show at New York's Stable Gallery alongside other boxes meant to replicate the packaging for Del Monte Peach Halves, Campbell's Tomato Soup, and Heinz's Ketchup. Each of the boxes was constructed of wood in the dimensions of the actual box with the label from the respective brand silk-screened on its surfaces. To the viewer, the boxes looked just as one would find them in any store. Warhol also utilized unusual methods of display for both the Campbell's Soup Cans and the Brillo Boxes in order to link them back to the original product as much as possible. The Soup Cans were displayed in a continuous row, as they would be in a grocery store shelf. The Brillo Boxes were a three dimensional extension of what Warhol had done with the Campbell's Soup Cans, stacked in columns just as if they were for sale. By displaying his works in a nontraditional format Warhol was removing them even more from the realm of the traditional art world. The utilization of such ubiquitous household brands revealed the "commercial framework behind the pristine spaces of the art gallery and art museum, while rubbing the nose of high culture in the mundane disorder of the supermarket stockroom" (P. Walsh, "Brillo Boxes," Andy Warhol Foundation for the Visual Arts, 1998). Not surprisingly, such novelty was not immediately received positively. Many critics of the show felt that as an artist, Warhol should be creating images of his own instead of replicating the images of others, especially those created as labels for commercial products. Critics of Warhol's work believed that such utilization of such labels degraded the seriousness of art. Warhol's Brillo Box "made the form of that question finally and forever clear: how is it possible for something to be a work of art when something else, which resembles it to whatever degree of exactitude, is merely a thing, or an artifact, but not an artwork? Why is Brillo Box when the Brillo cartons in the warehouse are merely soap-pad containers?" (A.C. Danto, "Andy Warhol: Brillo Box" Art Forum, New York, 1993). A new philosophical question regarding the aesthetics and future of art was launched. Warhol's boxes continued the debate sparked by the use of the readymade: whether the context in which an object was created and displayed is enough to categorize it as art. While Warhol's box sculptures seemed to raise the same questions brought up by works such as Marcel Duchamp's Fountain, the essential difference, of course, is that Warhol's boxes were not found objects at all, but hand-made objects, meticulously recreated in another medium. With this project, Warhol further blurred the line between the ready-made and traditional art by engaging in recognizable artistic production, but only in his replication of a mass-produced consumer object. Warhol was not only furthering the debate about the place of the ready-made in the art world introduced by Duchamp, he was also expanding on the ideas he had explored in his variations on Campbell's Soup Cans. While the Soup Cans had been heralded as revolutionary for their use of consumer objects as subject matter, Warhol went a step further with the Brillo Boxes. Though the Soup Cans introduced a new practice of the obvious utilization of generic commodities, they were still executed in a more traditional medium of paint on a canvas. Warhol's Brillo Boxes, though crafted out of wood, look to the viewer exactly like the boxes one would have found in the store. With this work, Warhol forced the public to expand their notion of what constitutes art even further by making his art appear all the more commercial and even superficial.There is one key difference between Warhol's work and the products after which they were modeled: Warhol's boxes were empty. By leaving the boxes empty of the products with which they are labeled, he makes a subtle, yet powerful comment about the importance of the image and of advertising in the modern world. Through this piece Warhol seems to be arguing that it was not the items themselves that mattered but rather how they were packaged and what image they portrayed. This piece is an emblem of Warhol's mission to challenge the notion of what defined art and the attitudes it provoked. Warhol is synonymous with the Pop Art movement, and the present lot makes it clear why. With this exemplary piece, Warhol utilizes the mass produced product by removing it from its intended context and reinventing it as an object of art, a sculpture. In keeping with the Pop movement, Warhol essentially brings life and art in closer proximity, radically altering the definition and boundaries of art forever.
Buyer's Premium
25% up to

$50,000.00

20% up to

$1,000,000.00

12% above

$1,000,000.00
Discover Items You'll Love