John Hancock in 1776 Signs Highly Important Resolution
Don't Miss Your Next Treasure.
Set up a search alert to hear when Militaria & War Memorabilia items arrive.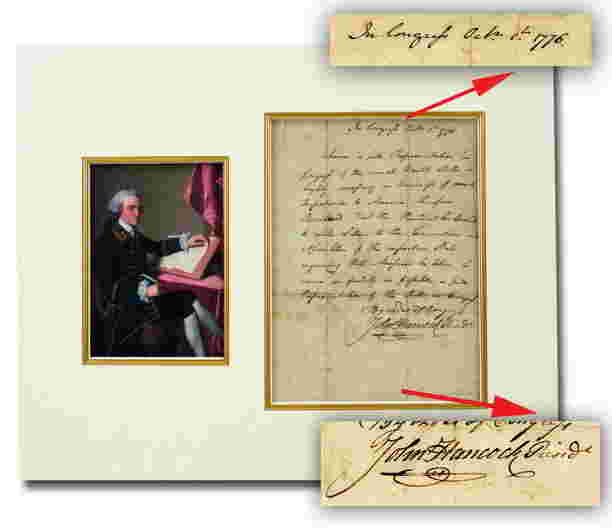 Lot 0098 Details
Description
Hancock John

John Hancock in 1776 Signs Highly Important Resolution Urging Complete Representation of All the States; Taxation Without Representation was the Main Cause of the Revolutionary War!

John Hancock, manuscript document signed, October 1, 1776. 1 p., 8" x 12.5". Reinforced; folds or splits barely affect this gorgeous, important document. Professionally matted with an image of Hancock, 19" x 15.5". With bold familiar signature executed only a few months after signing similarly the Declaration of Independence. Hancock has also added, in his hand, "By order of Congress" and of course, "John Hancock Presidt".

Complete Transcript

"In Congress Octr 1st 1776.

Whereas a full Representation in Congress of the several United States is highly necessary on Business of much Importance to America, therefore

Resolved, That the President be desired to write Letters to the Conventions and Assemblies of the respective States, requesting that Measures be taken to cause as speedily as possible a full Representation of the States in Congress.

By order of Congress

John Hancock Presidt."

In the fall of 1776, the new American Revolution was not going well for the Americans. Late in August at the Battle of Long Island, British troops under William Howe forced George Washington's forces to retreat across the East River to Manhattan, and in mid-September, the British began landing on Manhattan. Washington briefly checked the British at the Battle of Harlem Heights on September 16, but retreated to White Plains, leaving New York City in control of the British. On September 22, the British executed Nathan Hale in New York City for espionage.

Throughout its history, the Continental Congress was plagued by poor attendance. Its presidents, its secretary, and other delegates wrote to absent members begging them to attend. Several problems hindered participation. Delegates from distant states found travel slow and difficult, and the British occupation of certain areas like New York City made travel dangerous as well. Those nearer to Philadelphia found it easier to get there but also easier to return home. Several members of Congress were also members of state assemblies or militia officers, and those duties drew them away. Fear of leaving their wives, families, and property subject to raids by loyalists and British soldiers and sailors also played a role. Many potential delegates simply refused to serve, and others quit after the states were slow or remiss in paying them for their service.

In response to this resolution, Hancock sent the following to the assemblies of each of the states except Pennsylvania and Delaware on October 2: "The Congress being at present deeply engaged in matters of the utmost importance to the welfare of America, have judged it absolutely necessary that there should be a full representation of the several States as soon as possible. For this end, I am to request, in obedience to their commands, you will immediately take proper measures to comply with the enclosed resolve, in order that the United States may be fully represented in Congress, and the sentiments of America be the better known upon those interesting subjects that lie before them. I shall therefore only once more request your compliance with this requisition of Congress."

Congress had begun to discuss provisions for an agreement among the former British colonies that would become the Articles of Confederation. On June 12, 1776, a day after appointing a committee to draft a Declaration of Independence, the Second Continental Congress resolved to appoint a committee of thirteen to prepare a draft constitution for a union of the states. The committee met over the next month, and chairman John Dickinson presented a draft to Congress on July 12. Over the next sixteen months, delegates debated issues of state sovereignty, the powers of Congress, whether to have a judiciary, western land claims, and voting procedures. Because all thirteen states had to ratify it before it took effect, it was important to have the "sentiments of America" through their delegates, as Hancock's letter to the state assemblies makes clear. Congress finally completed the final draft of the Articles of Confederation on November 15, 1777 and sent it to the states for ratification. Within fourteen months, twelve states had ratified the Articles, but Maryland did not ratify for two more years, and the Articles of Confederation went into effect in the spring of 1781.

John Hancock (1737-1793) was a Boston merchant and leader of the colonial resistance movement. Born in Braintree, his paternal uncle, Thomas Hancock, adopted John after his father died in 1742. John Hancock graduated from Harvard College in 1754 and went to work for his uncle, from whom he learned the mercantile trade and was groomed for partnership. The Hancock family engaged in smuggling with the French West Indies in defiance of the Molasses Act. When his uncle died childless in 1764, John Hancock inherited the lucrative mercantile business and became one of the wealthiest men in New England. Named a Boston selectman in 1765, Hancock opposed the Stamp Act, and upon passage of the Townshend Duties in 1767, he resolved to prohibit British customs officials from setting foot on his ships. Hancock served in the Massachusetts House of Representatives and, in 1774, he was elected president of the revolutionary Provincial Congress. He and Samuel Adams were the targets of General Gage's projected campaign against Lexington and Concord in April 1775. During the war, Hancock served as President of the Continental Congress from May 1775 to October 1777, and in that capacity signed the Declaration of Independence in bold script on July 4, 1776. Under the new Massachusetts Constitution of 1780, voters elected Hancock in a landslide with over 90 percent of the vote. He governed Massachusetts through the end of the war and into the postwar period until his surprise resignation in 1785. After avoiding problems surrounding Shays's Rebellion (1786-1787), Hancock won reelection as Governor in 1787 and won successive annual terms until the end of his life.

This item comes with a Certificate from John Reznikoff, a premier authenticator for both major 3rd party authentication services, PSA and JSA (James Spence Authentications), as well as numerous auction houses.

WE PROVIDE IN-HOUSE SHIPPING WORLDWIDE.
John Hancock in 1776 Signs Highly Important Resolution
Estimate $8,000 - $9,000
Aug 28, 2019
Shipping, Payment & Auction Policies
Ships from
Westport , CT, United States