ORIGINAL ART: Trina Robbins WONDER WOMAN Satire, 1974
Don't Miss Your Next Treasure.
Set up a search alert to hear when Comic Books & Illustrations items arrive.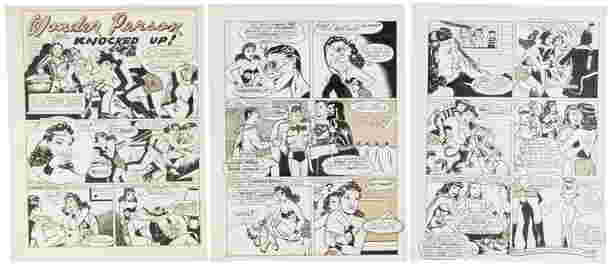 Lot 0303 Details
Description
Heading: Author:
[Original Comic Art] Robbins, Trina
Title:
"Wonder Person Gets Knocked Up!" Complete Three-Page Story Original Art
Place Published: Publisher:Date Published:
1974
Description:

Ink and Zip-a-Tone on bristol board, measuring 12.25" x 16", signed "Trina" on first page. Excellent condition, light edgewear.

"The Marvel guys didn't... feel threatened by me; they didn't have the same boys' club mentality as the underground artists." Trina Robbins, quoted by Steve Duin and Mike Richardson, Comics Between the Panels. Dark Horse: 1998.

Trina Robbins arrived early on the underground comix scene, publishing cartoons in The East Village Other and other alternative papers prior to R. Crumb's release of Zap #1. Her path crossed with such literary, counter-culture and art-scene icons as Abbie Hoffman, Andy Warhol, Harlan Ellison, the Byrds, Jim Morrison, Paul Krassner, and of course the pioneers of the underground comix scene: R. Crumb, S. Clay Wilson, Art Spiegelman, Kim Deitch and all the others.

As Robbins got more deeply enmeshed in the counterculture she became interested in collaborating with her colleagues in Zap Comix and other undergrounds, only to find that, despite lip service to progressive politics, the comix scene was very much an exclusive "boys' club." Since the Zap guys refused to publish her in their comics, she decided to publish her own.

In 1970, Robbins released It Ain't Me, Babe, the first underground comic showcasing work by women. She followed up with All Girl Thrills, Wimmen's Comix, Girl Fight, Tuff Shit and other fun mags. In 1974, when Stan Lee and Denis Kitchen launched Comix Book magazine as a platform for underground cartoonists, she was asked to contribute a story. Denis Kitchen considered her contribution, "Wonder Person Gets Knocked Up," an excellent way to "stir a fuss and [get] press," but Stan Lee refused to publish it, fearing legal consequences.

The story begins with Wonder Woman, her name prudently altered to Wonder Person, barfing in an alley after breaking up a mugging. Her doctor tells her she's pregnant, and when she breaks the news to her "old man" (Plastic Man, no less), he tells her to abort. Outraged, she bounces Plastic Man, who drowns his sorrows at the local bar with Superman, Batman, Shazam and Trashman. Trashman reassures Plas that Wonder Person is just another "pushy broad" trying to force her way into a "man's job." (Robbins later explained that Trashman's creator, Spain, told her that once she had a baby she wouldn't be able to draw comics anymore). As the story ends, Wonder Person is back in action, joined by Sheena, Mary Marvel, Phantom Lady and the Blonde Phantom, and together they all set out to burn their bras and trash some superheroes.

According to Robbins, "when Stan Lee saw it he had a fit and said, 'We can't print this! All the characters are DC characters; we'll get sued!'" Years later, she successfully petitioned Marvel's editor-in-chief Jim Shooter to return both the artwork and her ownership rights, one of the earliest instances of Marvel reverting all rights to an artist. It finally saw print in Denis Kitchen's The Best of Comix Book: When Marvel Went Underground. Kitchen Sink: 2013.

Trina Robbins has earned many awards and accolades over the years, and she's been lauded as the first female to draw Wonder Woman (in her 1986 Legend of Wonder Woman mini-series). This story predates the mini-series by 12 years. Besides it's significance as a political and social statement, the story is an early intercompany crossover of sorts, predating the groundbreaking Marvel-DC "Superman vs the Amazing Spider-Man" treasury edition by two years. Comics cognoscenti who have followed Trina's critique of R. Crumb will be amused by the "Robert Sucks!" graffiti on page one.

Consignments Accepted for PBA's Next Comic Book Auction. Golden Age, Silver Age, Pre-Code, Original Art, Interesting Ephemera Sought. Contact ivan@pbagalleries.com for details.
PBA COMICS March 26th Comic Book Sale catalogues available.
Supplies Limited. Softcover catalogues limited to 200 copies ($45 + $5 postage/handling). Hardcovers limited to 26 lettered copies, dust jackets, special limitation plates ($150). Contact ivan@pbagalleries.com.
ORIGINAL ART: Trina Robbins WONDER WOMAN Satire, 1974
Estimate $7,000 - $9,000
Jun 04, 2020
Shipping, Payment & Auction Policies
Ships from
Berkeley, CA, United States