Weekly Auctions of Exceptional Items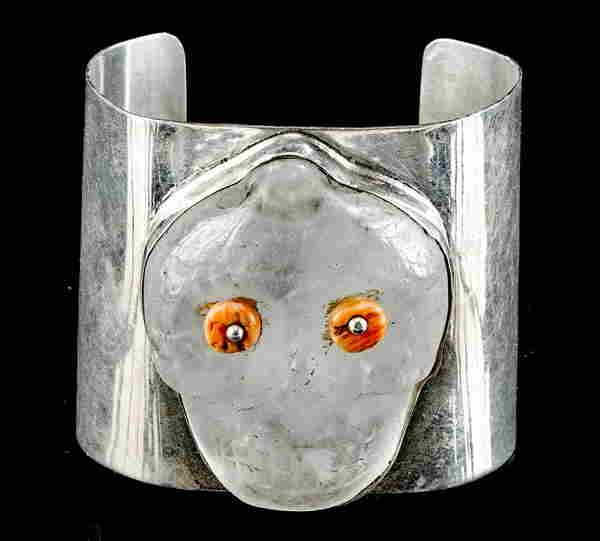 Item Details
Description
(Silver Cuff) Latin America, Mexico, Taxco, 20th century. (Skull) Pre-Columbian, Valley of Mexico, Mixtec people, ca. 900 to 1200 CE. An impressive and wearable bracelet featuring a quartz skull and 94.27% silver cuff with a "Taller Spratling" maker's mark. The cuff has a bezel that contains the semi-translucent quartz; the skull is decorated with incised teeth and two coral discs as eyes, held in place with silver granules. The skull was originally a pendant likely made by Mixtec artisans, and contains two perforations at the top for suspension. A beautiful and wearable piece of modern Taxco, Mexico silver with elements of Pre-Columbian artistry! Size: 2.5" L x 2.25" W (6.4 cm x 5.7 cm); opening gap: 1.375" W (3.5 cm); skull: 2.125" L x 1.75" W (5.4 cm x 4.4 cm); quality of silver 94.27%; total weight: 132.3 grams

The silver cuff of this piece is stamped "TALLER SPRATLING" and was collected by Park Kerr of Taxco, Mexico who is known for collecting original William Spratling pieces as well as works by other silversmiths inspired by Spratling. William Spratling (American, 1900-1967) made his initial visit to Mexico in 1926, and returned each summer for the next several years. Finally, in 1929, Spratling actually moved to Mexico to be an expatriate, becoming an active member of the vibrant artistic circles of Mexico. Spratling promoted the art of none other than Diego Rivera to New York galleries which led to Rivera's participation in the first exhibition of Mexican visual culture held in the United States, funded by the Carnegie Institute, that opened at the Metropolitan Museum of Art in New York. Not only did Spratling assist in curating the exhibition, but he also lent a number of his own pieces. During this same time period, Spratling was working on drawings for the expanding Morrow (US Ambassador to Mexico Dwight Morrow and his wife, the poet Elizabeth Cutter Morrow) home in Cuernavaca. Many of these drawings were included in the book written by Elizabeth Morrow entitled, "Casa Manana" (Knopf, 1930). It was Ambassador Morrow who suggested that Spratling explore developing the silver industry in Taxco.

Trying to find a way to support himself as an expatriate artist, Spratling took notice of the Taxco's silver-mining history and opened a workshop called the Taller de las Delicias, which translates to "Factory of Delights". Years later, he would write: "Nineteen-thirty-one was a notable year in modern Mexican silversmithing. A young silversmith from Iguala named Artemio Navarrete went to Taxco to work for a small silver shop, founded with the germ of an idea, where Artemio, as a nucleus, began to form silversmiths. The present writer, encouraged by his friends Moises Saenz, Dwight Morrow and Diego Rivera, had set up that little shop called 'Las Delicias.'"

Penny Chittim Morrill, Ph.D., who co-authored :Mexican Silver: 20th Century Hand-wrought Jewelry & Silver" with art dealer Carole Berk is the primary authority on Spratling's work. Morrill was the guest curator for the 2002 traveling exhibition entitled, "William Spratling and the Mexican Silver Renaissance: Maestros de Plata," organized by the San Diego Museum of Art. In her catalogue essay, Morrill stated, "In establishing silver as an artistic medium, what Spratling achieved was a delicate balance, a synthesis of abstract tendencies in the existent folk art tradition and in contemporary fine art, resulting in a visualization of concepts and ideas. As importantly, the Taller de las Delicias, became the paradigm for other silver designers to follow. Las Delicias was a community in which imagination and innovation were fostered and encouraged as the men learned the art of silversmithing while producing for profit. In the hierarchy of the workshop, these silversmiths advanced according to their ability, enthusiasm, and technical expertise."

Provenance: private Glorieta, New Mexico, USA collection

All items legal to buy/sell under U.S. Statute covering cultural patrimony Code 2600, CHAPTER 14, and are guaranteed to be as described or your money back.

A Certificate of Authenticity will accompany all winning bids.

We ship worldwide to most countries and handle all shipping in-house for your convenience.

#161852
Condition
Skull is slightly loose. Nicks and mineral deposits on skull. Nice patina to silver, and marks are clearly stamped. Wearable!
20th C. Mexican Silver Cuff w/ Quartz Skull
Shipping, Payment & Auction Policies
Ships from Louisville, CO, United States
Free Local Pick-Up Louisville, CO, United States
www.liveauctioneers.com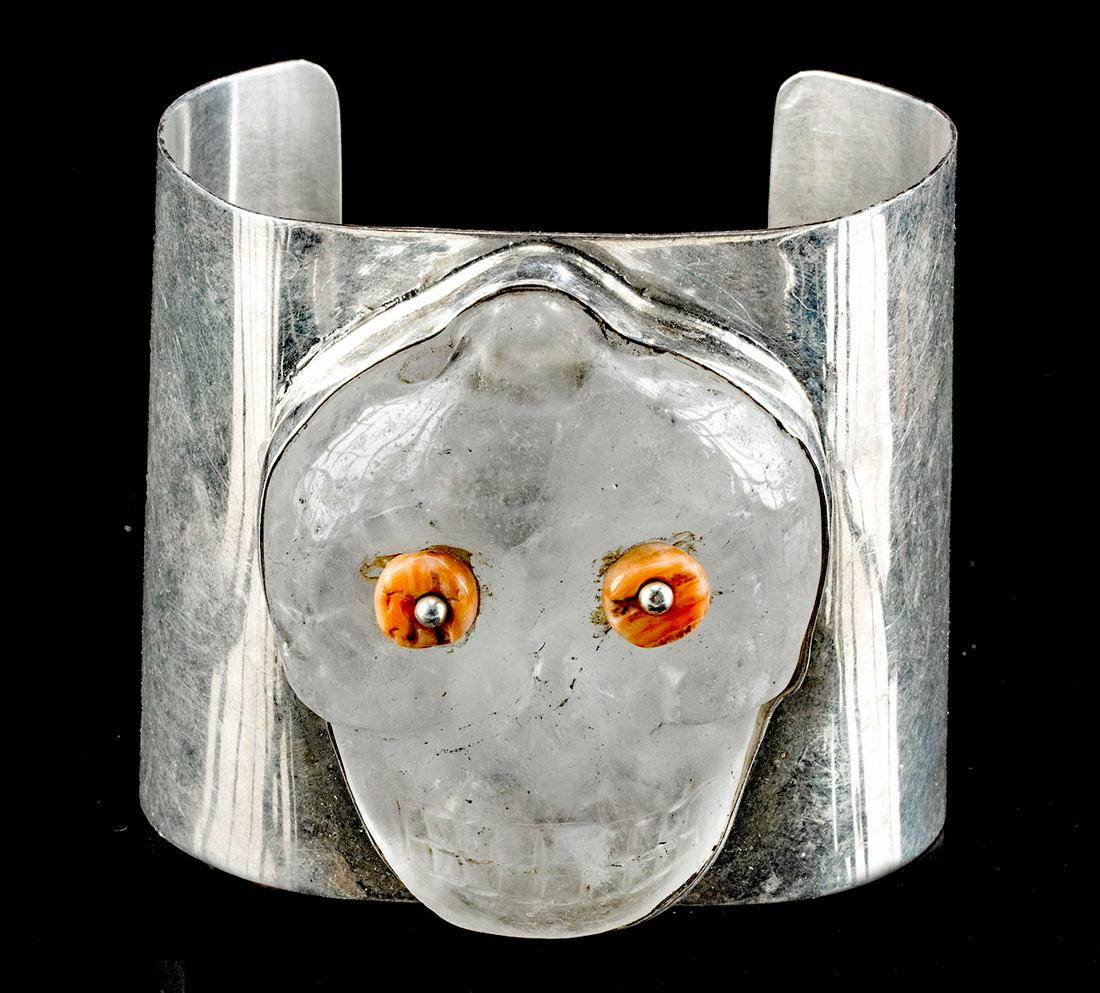 0057: 20th C. Mexican Silver Cuff w/ Quartz Skull
Est.

$1,400

-

$2,100
•
Starting Price

$700
American Frontier | Ethnographic | Tribal Art
Feb 25, 2021 10:00 AM EST
Buyer's Premium 24.5%
Lot 0057 Details
Description
(Silver Cuff) Latin America, Mexico, Taxco, 20th century. (Skull) Pre-Columbian, Valley of Mexico, Mixtec people, ca. 900 to 1200 CE. An impressive and wearable bracelet featuring a quartz skull and 94.27% silver cuff with a "Taller Spratling" maker's mark. The cuff has a bezel that contains the semi-translucent quartz; the skull is decorated with incised teeth and two coral discs as eyes, held in place with silver granules. The skull was originally a pendant likely made by Mixtec artisans, and contains two perforations at the top for suspension. A beautiful and wearable piece of modern Taxco, Mexico silver with elements of Pre-Columbian artistry! Size: 2.5" L x 2.25" W (6.4 cm x 5.7 cm); opening gap: 1.375" W (3.5 cm); skull: 2.125" L x 1.75" W (5.4 cm x 4.4 cm); quality of silver 94.27%; total weight: 132.3 grams

The silver cuff of this piece is stamped "TALLER SPRATLING" and was collected by Park Kerr of Taxco, Mexico who is known for collecting original William Spratling pieces as well as works by other silversmiths inspired by Spratling. William Spratling (American, 1900-1967) made his initial visit to Mexico in 1926, and returned each summer for the next several years. Finally, in 1929, Spratling actually moved to Mexico to be an expatriate, becoming an active member of the vibrant artistic circles of Mexico. Spratling promoted the art of none other than Diego Rivera to New York galleries which led to Rivera's participation in the first exhibition of Mexican visual culture held in the United States, funded by the Carnegie Institute, that opened at the Metropolitan Museum of Art in New York. Not only did Spratling assist in curating the exhibition, but he also lent a number of his own pieces. During this same time period, Spratling was working on drawings for the expanding Morrow (US Ambassador to Mexico Dwight Morrow and his wife, the poet Elizabeth Cutter Morrow) home in Cuernavaca. Many of these drawings were included in the book written by Elizabeth Morrow entitled, "Casa Manana" (Knopf, 1930). It was Ambassador Morrow who suggested that Spratling explore developing the silver industry in Taxco.

Trying to find a way to support himself as an expatriate artist, Spratling took notice of the Taxco's silver-mining history and opened a workshop called the Taller de las Delicias, which translates to "Factory of Delights". Years later, he would write: "Nineteen-thirty-one was a notable year in modern Mexican silversmithing. A young silversmith from Iguala named Artemio Navarrete went to Taxco to work for a small silver shop, founded with the germ of an idea, where Artemio, as a nucleus, began to form silversmiths. The present writer, encouraged by his friends Moises Saenz, Dwight Morrow and Diego Rivera, had set up that little shop called 'Las Delicias.'"

Penny Chittim Morrill, Ph.D., who co-authored :Mexican Silver: 20th Century Hand-wrought Jewelry & Silver" with art dealer Carole Berk is the primary authority on Spratling's work. Morrill was the guest curator for the 2002 traveling exhibition entitled, "William Spratling and the Mexican Silver Renaissance: Maestros de Plata," organized by the San Diego Museum of Art. In her catalogue essay, Morrill stated, "In establishing silver as an artistic medium, what Spratling achieved was a delicate balance, a synthesis of abstract tendencies in the existent folk art tradition and in contemporary fine art, resulting in a visualization of concepts and ideas. As importantly, the Taller de las Delicias, became the paradigm for other silver designers to follow. Las Delicias was a community in which imagination and innovation were fostered and encouraged as the men learned the art of silversmithing while producing for profit. In the hierarchy of the workshop, these silversmiths advanced according to their ability, enthusiasm, and technical expertise."

Provenance: private Glorieta, New Mexico, USA collection

All items legal to buy/sell under U.S. Statute covering cultural patrimony Code 2600, CHAPTER 14, and are guaranteed to be as described or your money back.

A Certificate of Authenticity will accompany all winning bids.

We ship worldwide to most countries and handle all shipping in-house for your convenience.

#161852
Condition
Skull is slightly loose. Nicks and mineral deposits on skull. Nice patina to silver, and marks are clearly stamped. Wearable!
Contacts
Artemis Gallery
720.890.7700
686 S. Taylor Avenue Suite 106
LiveAuctioneers Support
info@liveauctioneers.com