lots of lots
Welcome to the world's largest marketplace for fine art, antiques & collectibles.
1312: SIGNED SORRENTO INLAID WOOD BOOK COVER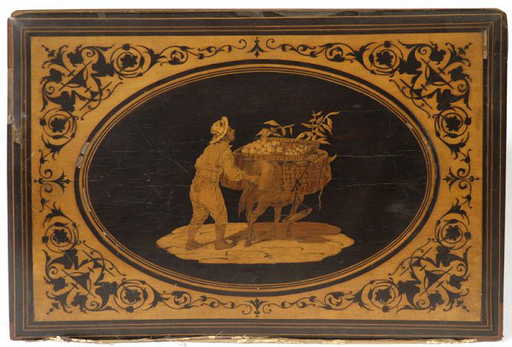 See Sold Price
Don't Miss Your Next Treasure.
Set up a search alert to hear when Forsythes' Auctions, LLC lists new auctions.
Discover Related Items Available Now
Auction ended on December 4th, 2005 UTC
1312: SIGNED SORRENTO INLAID WOOD BOOK COVER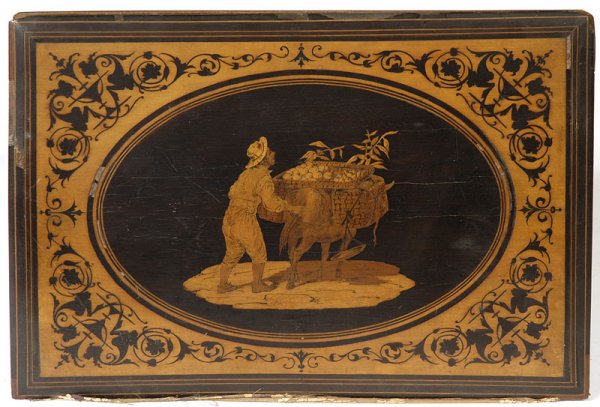 Wonderful felt lined cover with inlaid design of man pulling donkey's tail that is carrying vegetables etc. Signed "Sorrento" on back. Some chips to wood, mainly around edges. 12" x 17 1/2"
Shipping
Buyer Pays Shipping Cost
Payment
Contact For Payment Details
Accepted payment methods
Feedback
We will make every attempt to leave positive feedback, but with a large sale we may have over a hundred successful eBay bidders and several hundred lots to leave feedback on. We may not be able to do it the day you pay for your lot, but we try to get to it within the allotted 60 days.
Invoices
We will send invoices for the entire sale within three days after the end of the auction. If you purchased an item early in the auction, you will need to wait until the entire sale is completed before we compile invoices. We will email invoices to eBay buyers when possible, but please be aware that occasionally the emails do not arrive. Please let us know if you do not receive one after a few days. We can fax, mail or re-send the email invoice. It takes a few days to calculate shipping, and often bidders are successful on multiple lots. We combine these on the invoice and do our best to combine shipping charges, also, to save buyers a bit of shipping expense. (We may have to ship items separately because of size, shape or fragility; however).
Bid Priority
If you leave an absentee bid on eBay, eBay will execute the bids in the order received. The earliest bid entered is executed first and will block any live bidders on the internet from trying to bid during the sale until the maximum bid amount is reached. The eBay priority does not apply to floor bidders. What does happen on occasion is that a lot will sell to a floor bidder for the amount left by an eBay bidder. For example, you leave a bid of 300 for an item; the bidding opens at 225 and your online bid is recognized by the auctioneer; the floor advances to 250; your online bid is recognized at 275; the floor bids 300. The floor bidder takes the lot since eBay cannot advance to 325 on your behalf, and you cannot bid 300 because you would be bidding against your 275 bid. (Technically, you did not bid 300, even though you left that as the maximum; only 275 was bid on your behalf). That is, just because you left a bid of, say, 300 two weeks before the sale does not mean you get the lot because your bid was earlier. You are bidding against other people in a live auction. This does not mean we discriminate against online bidders. Often online bidders get lots for less than their maximum bid. Also, eBay does not let us see the amount of an absentee bid. We know a bid has been left, but not how much, so we cannot be aware of your maximum.
Registration
Please register to bid well before the start of the sale. You must be approved before you can leave an absentee bid on eBay. We have a manual approval process, so it generally takes at least a day to finalize your registration. Once the sale begins, we may not be able to approve your registration.
Additional Information About A Lot
If you need additional information, please make your request as early as possible before the sale. Our auctions are held in several locations around Cincinnati, and items must be moved to the auction site several days before a sale. They may not be available to take additional measurements, etc. for several days. We receive dozens of requests for photos, and our sales often exceed five hundred lots. Please be patient.
Posted Sale Time
The sale times for live auctions only refer to the date of the sale: for example, if the sale end time is 8:00 p.m. PST, it does not mean you have until then to bid; the item will sell whenever the lot comes up on the auction floor. All times posted are Pacific Standard Time.
Shipping
The cost of packing, handling, and shipping will be the responsibility of the buyer. Forsythes Auctions, LLC can recommend available shipping companies for your use, but does not handle most of the shipping. We work very closely with a professional shipper and recommend that the buyer contact him. Wrap-It Postal, 7721 Five Mile Rd. Cincinnati, Ohio 45230. Telephone 513-231-8990 and ask for Dave. We deliver to the shipper as fast as possible. We are trying to arrange shipping for 100s of items at the same time, and though we work as swiftly as possible please be patient with your shipment. The shipper will be very busy during the holidays so please allow ample time for shipment. We cannot estimate shipping on large items such as furniture. These must be shipped by freight or trucking companies and we cannot quote their rates for you. We will try to provide contact information for the companies, but you can also check with a local mover in your area. Successful bidders may also make their own arrangements for pick-up and delivery of property.
Live Internet Bidding
Live internet bidding is available during the auction as a service to our customers, however, Forsythes Auctions, LLC cannot be held responsible for failing to execute bids or for errors relating to the execution of bids. In the event of a tie bid between a floor bidder and internet bidders, the floor bid will be honored.
Additional Notes for Internet Bidders
This item will be sold in a live auction. These notes address questions asked or problems encountered by online bidders. For our full terms conditions, see the other box.
Terms
All bidders are responsible for reading and understanding these Terms of Sale as well as any supplemental notices. By bidding in this auction, prospective bidders (whether present in person, or by agent, by written, telephone, FAX, email) agree to be bound by these TERMS AND CONDITIONS. These are the complete and only terms and conditions on which all property is offered for sale. TERMS AND CONDITIONS REGISTRATION. All bidders must register their name, permanent street address, and phone number prior to the auction. All registrants are required to present identification. Bidders unknown to us will be required to present a valid Visa, MasterCard or credit card. ACCEPTANCE OF TERMS. Bidding on any item, whether in person, by phone, by absentee bid or via a live internet auction indicates the bidder's agreement to be bound by these Terms and Conditions for Bidders. Any right of bidder under this agreement shall not be assignable and shall only be enforceable by the original buyer. The rights and obligations of the parties shall be governed by the laws of the state of Ohio. All bidders submit to the personal jurisdiction of the state and federal courts of Ohio. TERMS OF SALE. Announcements made the day of auction take precedence over any previous communication. The auctioneer reserves the right to withdraw any lot at any time before its final sale and to reject any bid for any reason. The highest bidder for each lot acknowledged by the auctioneer shall be the "buyer". If any dispute arises as to any bidding, or between two or more bidders, at the sole discretion of the auctioneer, the successful bidder will be determined or the disputed lot shall be put up again at the last undisputed bid and resold. The auctioneer may reject any bids if, in his judgment, such a bid shall be likely to affect the sale injuriously. BUYER'S PREMIUM. A premium of 15% will be applied to all property sold, to be paid by purchaser as part of the purchase price. Un-catalogued auctions and purchases made through live online auctions may have different buyer's premium calculations. RESERVES. Most lots offered are without reserve. In the case of reserved items, the seller has authorized the auctioneer to bid on their behalf until the reserve price is reached. LIMITED WARRANTY. EVERY LOT IS SOLD "AS IS", without any representations or warranties by Forsythes' Auctions, LLC or the seller as to merchantability, fitness for a particular purpose, condition or value of the property, or the correctness or completeness of the catalog or other description of the property, and no statement, whether written or oral shall be deemed such a representation, warranty or assumption of liability. Dimensions given in our descriptions may be approximate. While condition reports for most items are stated in the descriptions, prospective bidders are urged to contact Forsythes' Auctions, LLC directly for detailed information regarding any lot. ESTIMATES. Pre-sale estimates are intended to be guides and may or may not reflect the ultimate hammer price of a lot. Forsythes' Auctions, LLC retains the right to change estimates on any lot up to time of sale. ABSENTEE AND PHONE BIDDING. Absentee and telephone bidding is offered as a service to our customers, and prospective bidders shall not hold Forsythes' Auctions, LLC or a staff member responsible for any errors or failures in executing bids. Absentee bids are accepted via mail, phone, FAX or email. Absentee bidders unknown to us may be required to submit a bank letter of credit prior to the auction, or using a credit card, deposit with Forsythes' Auctions, LLC a fee equaling 30% of their absentee bid. The issuance of a credit card number is to serve as a deposit on bids and to guarantee payment for any successful bids. All absentee bids are executed competitively by a member of the auction staff. We will bid up to the amount you have left only if necessary. In the event of a tie bid between a floor an absentee bidders, the floor bid will be honored. Bidding "live" via the telephone is available on a first come, first served basis. We strongly advise you to also leave and absentee insurance bid for the lots you wish to be called on. This insures that if we cannot contact you, your insurance bid will be executed as an absentee bid. INTERNET BIDDING. Internet bidding via ebayliveauctions.com may be available for certain auctions. There may be terms which apply to internet bids that should be reviewed on line at the time of sale. Forsythes' Auctions, LLC will not be held responsible for any failure to execute any internet bid. BUYER'S RESPONSIBILITY. Upon the fall of the hammer, title to the offered lot shall pass to the buyer and the buyer immediately assumes full risk and responsibility for the lot, including liability for loss or damage. PURCHASE PRICE AND PAYMENT. The purchase price for each lot shall equal the hammer price, buyer's premium, sales tax and, if applicable, all packing, handling, insurance, and shipping costs. Payment may be made with cash, personal or traveler's checks, Visa, MasterCard or American Express. Buyers who are present at the auction must pay the full purchase price at the time of the sale. Buyers who bid by telephone or who are absentee bidders will be invoiced within 5 days after the close of the auction and must pay the full purchase price for each purchased lot within 7 days after the date of the auction. By signing the absentee bid form or placing an absentee bid by telephone, an absentee bidder authorizes Forsythes' Auctions, LLC to charge the purchase price (hammer price, plus buyer's premium) for each lot for which such bidder is the successful bidder to the credit card number provided by telephone or on the absentee bid form, unless payment in full or alternative payment instruction is received within 7 days after the date of the auction. No property will be released by Forsythes' Auctions, LLC unless the purchase price has been paid in full. SALES TAX. Buyers are required to pay any applicable state and local sales tax. SHIPPING. As a convenience to the purchasers, we will, if requested, have items packed and shipped, or arrange shipment, for you almost anywhere in the United States, fully insured, for a fee. Shipment generally occurs within one week after payment has been received. Payment with a money order or bank draft expedites this process. Unless absolutely necessary, we will not ship to a P.O. Box. For this reason, please provide a street address for our shipper. It will expedite your receipt of your purchase. Forsythes' Auctions, LLC may be able to deliver for a fee. If you have a shipping preference for any reason, please make sure your shipper carries insurance. We are not responsible for any damage or loss that occurs while your items are in another's care. SHIPPING CHARGES. Buyers are required to pay for all packing, shipping and insurance charges. Be aware that for larger and/or valuable items, shipping charges can be substantial.
Discover Items You'll Love

Bid Anywhere, Anytime. Download the LiveAuctioneers App.
Available on the App Store
Android App on Google Play