Gilbert Stuart (American, 1755-1828)
See Sold Price
Don't Miss Your Next Treasure.
Set up a search alert to hear when Gilbert Stuart Paintings items arrive.
Auction ended on January 31st, 2016 UTC
Gilbert Stuart (American, 1755-1828)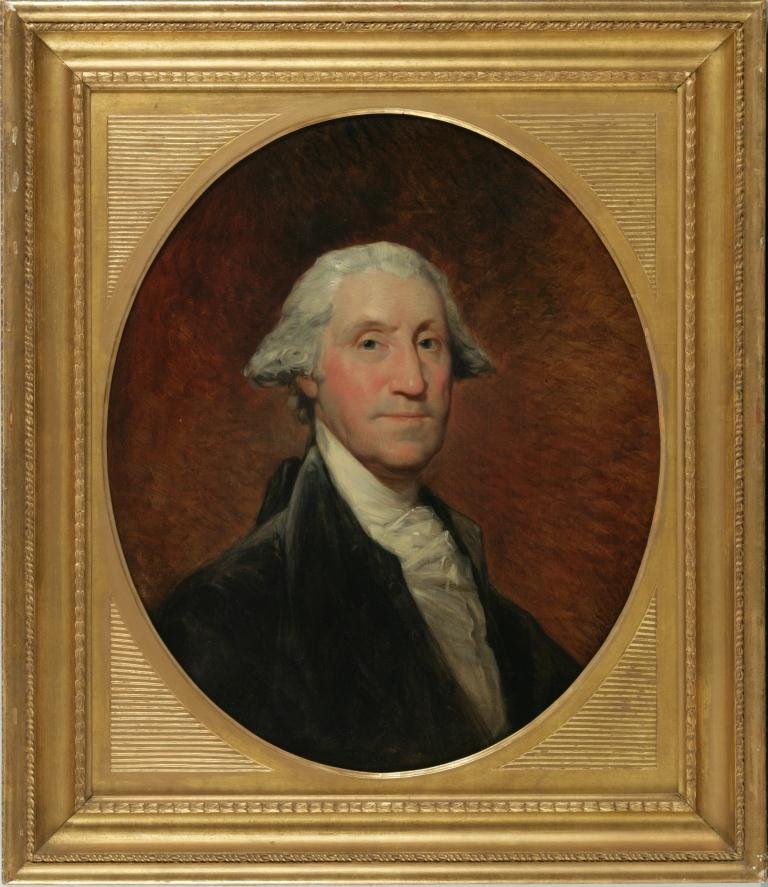 Gilbert Stuart (American, 1755-1828)
George Washington
Oil on canvas
28 ½ x 24 11/16 inches
Estimate: $150,000-250,000

Provenance: Philip Nicklin (commissioned from the artist and included on original list of commissioned portraits. On April 20, 1795, Gilbert Stuart compiled "…a list of gentlemen who are to have copies of the Portrait of the President of the United States." Philip Nicklin's name appears on the list as "Mr. Necklin" Mr. Nicklin's wife, Julianna, was the daughter of Chief Justice Benjamin Chew, a close personal friend of George Washington;
Estate of Julianna Nicklin, Philadelphia, Pennsyvania, 1845;
Chester Harding, Boston, Massachusetts, 1845 (acquired from the Nicklin Estate Sale - OR it is possible that the painting was acquired in 1828 by Chester Harding when Harding completed a portrait of Charles Carroll of Carrollton [1737-1832], father-in-law of Sophia Chew Carroll, the wife of Charles Carroll of Homewood and sister of Julianna Chew Nicklin);;
Moses Kimball, Boston, Massachusettes (acquired from the above);
Margaret Kimball, Boston, Massachusetts (his daughter and sold: Leonard's Auction Rooms);
Alonzo H. Evans, Boston, Massachusetts (acquired from the above sale);
William E. Nickerson, Boston, Massachusetts (gift from the above);
Torrey Little, Boston, 1938 (acquired from the family of the above);
Robert B. Campbell, Boston, Massachusetts circa 1940;
Count Ivan N. Podgoursky, New York, February 5, 1945 (acquired from the above);
Inherited by Mary Ermolaev, wife of Count Podgoursky, in 1962;
Sold by Mrs. Ermolaev to her son Vladimir Podgoursky sometime after 1962;
Estate of Vladimir Podgoursky, 2011

Located Examples of Vaughan Portraits:
The Frick Collection, New York;
National Gallery of Art, Washington, D.C.;
The Metropolitan Museum of Art, New York;
Harvard University Portrait Collection, Cambridge, Massachusetts;
Henry Francis du Pont, Winterthur Museum, Winterthur, Delaware;
University of Virginia, Charlottesville, Virginia;
Colonial Williamsburg, Virginia;
Homeland Foundation, Inc., Amenia, New York;
Indiana University Library, Bloomington, Indiana;
And two distinguished Private Collections

Exhibited: Boston, Massachusetts, Boston Museum 1846
Richmond, Virginia, Virginia Museum of Fine Arts, Portrait Panorama: An Exhibition of Portraits by Artists of Six Centuries, September-October 1947, no. 11
Mason Chamberlin -The Life and Works fo Gilbert Stuart

Stuart painted three distinct life portraits of Washington in Philadelphia between 1794 and 1796, which subsequently served as models for further replicas. The Vaughan type, named for Philadelphia merchant John Vaughan (who purchased one for his father, Samuel in London [National Portrait Gallery, Washington] and presumably, one for himself), depicts a waist-length view of Washington with his right side facing forward.1 Commissioned by Martha Washington for Mount Vernon but never finished, the Athenaeum portrait, of which approximately 75 copies were produced by Stuart, reveals a bust-length portrayal of Washington with his left shoulder forward. The Lansdowne portrait, thought to have been commissioned by wealthy Philadelphia merchant William Bingham as a gift for William Petty, the first Marquis of Lansdowne, shows Washington at full-length with his right hand out in gesture.
The portrait at the National Gallery, believed to be the result of the first sitting with the president in 1795, served as the model for the portrait featured in this sale, as well as approximately 17 other portraits of Washington. Stuart's treatment of the background's red tones, the carefully added details around the mouth and eyes, and even the shirt ruffle, reveal nearly identical similarities between this portrait and the Vaughan Washington at the National Portrait Gallery. Although cut down slightly (to an oval shape), fortunately, the portrait has lost very little in terms of height and width; when compared to other Vaughn type portraits, the present Nicklin portrait of Washington is slightly larger than some examples and slightly smaller than others. Height 28 ½ width 24 11/16 inches. Both John Vaughn and Phillip Nicklin had their portraits done by Gilbert Stuart presumably at roughly the same time. Each portrait has the same distinctive reddish brown background, achieved by Stuart's use of Vermillion and Umber.
On April 20, 1795, Gilbert Stuart compiled "a list of gentlemen who are to have copies of the Portrait of the President of the United States." Although this original list is presumably no longer extant, Stuart's daughter Jane later published a direct copy in 1876.2 Incorrectly spelled as "Mr. Necklin," the owner of this portrait, Philip Nicklin, is listed among the names of prominent patrons such as John Vaughan, Benjamin West, Viscount Cremorne and John Jay. A wealthy merchant in Philadelphia, Nicklin and his wife Julianna commissioned Stuart to paint portraits of their own likenesses in 1795, along with a copy of the Vaughan portrait.3 Strong familial ties to Washington most likely prompted their interest in securing a copy of his portrait, as Julianna's family was one "with which he was most intimate in Philadelphia."4 Julianna's father, Chief Justice Benjamin Chew, had a lifelong friendship with Washington, even after Chew openly opposed the Declaration of Independence. In a letter Washington wrote to Stuart on April 11, 1796, he claims that he is "under promise to Mrs. Bingham to sit for you tomorrow at nine o'clock."5 Nicklin's sister-in-law, Harriet, supposedly accompanied Washington to provide conversation and a source of amusement.6 The "Mrs. Bingham" refers to the wife of William Bingham, a friend of the Chew-Nicklin family and fellow Philadelphia merchant, and the commissioner of Stuart's Lansdowne portrait.
1 Barratt, Carrie Rebora and Ellen G. Miles. Gilbert Stuart. New York: The Metropolitan Museum of Art, 2004. 166-176.
2 Stuart, Jane. "The Stuart Portraits of Washington." Scribner's Monthly, 12, no.3 (July 1876): 373.
3 Lawrence, Park. Gilbert Stuart: An Illustrated Descriptive List of His Works, Vol. II. New York: William Edwin Rudge, 1926. 551.
4 Griswold, Rufus. The Republican Court, or, American Society in the Days of Washington. New York: D. Appleton and Co., 1856. 329.
5 Stuart, 374.
6 Griswold, 355.
Condition
"The surface of the painting has a recent surface coating of synthetic resin varnish overlying a thin layer of slightly yellowed natural resin varnish...The paint layer is in a wonderful state of preservation with almost no abrasion and very minor restored damages...The painting is glue lined and stretched onto an oval replaced stretcher...There are two exposed small filled losses with some remaining old overpaint on the fillings that were likely exposed when the painting was cleaned in 1945. The fillings with some retouch color on the fillings include a 3/16 x 3/4 inch vertical filling on the right side of the face near the hairline and two 1/8 inch diameter fills on the upper shirt collar adjacent to the coat..." [The spandrels of the painting were removed at some point in the late 19th or early 20th century. However, it is interesting that the height and width are still up to ½ larger than other Vaughan-Type portraits of Washington and up to ¾ inch smaller thank others. "…There are no remnants of the original tacking edges present."
Buyer's Premium
27% up to

$100,000.00

22% up to

$2,000,000.00

19% above

$2,000,000.00
Discover Items You'll Love