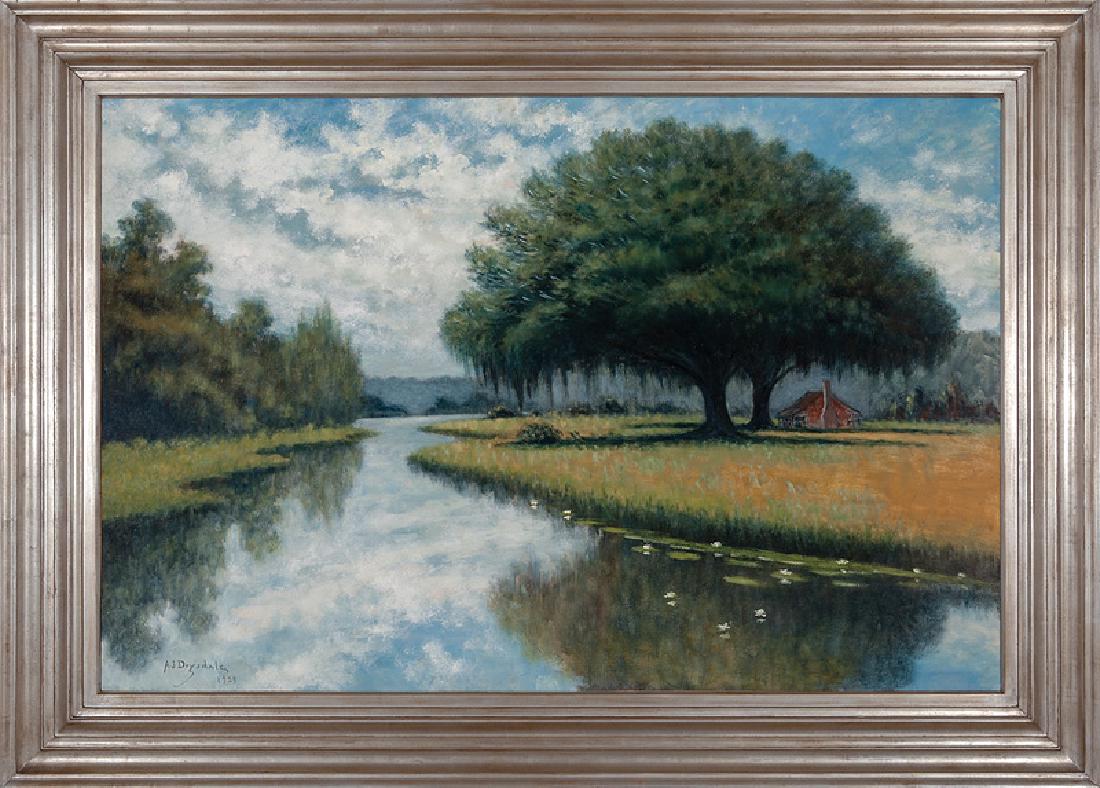 Alexander John Drysdale (American/New Orleans, 1870-1934), "Monumental Louisiana Bayou with Live Oaks, Cypress and Cabin", 1929, oil on board, signed and dated lower left, 47 in. x 71 in., framed. Note: This stunning example of a luminous bayou landscape by Alexander Drysdale exhibits the best of the artist's techniques in both color and brushwork in a rare, large format composition. A beautiful scene depicting Drysdale's iconic Live Oaks near a river, the inclusion of a small cabin adds a charming element to the composition. Drysdale blends his colors to create particularly vibrant blues, greens, and teals for the lush vegetation reflected in the water dotted with water lilies.
Although he listed himself as a portrait painter in advertisements, Drysdale is best known for his Louisiana landscapes. Other known instances of Drysdale painting in a similar large-scale format to the work offered here include the canvases done to decorate the Weiss Dining Room, now conserved at Tulane University, the murals painted for the D. H. Holmes Department Store on Canal Street, and the murals done for the New Orleans Shushan Airport.
Ref.: Buechner, Howard A. Drysdale: Artist of Myth and Legend. Metairie, LA: Thunderbird Press, 1985.
Alexander John Drysdale (American/New Orleans)
Sat, Mar 24, 2018 3:00 PM UTC
24 

Hrs
0 

Min
Until Auction Starts
Register to Bid

Neal Auction Company
4038 Magazine Street
New Orleans, LA 70115
United States

Discover Items You'll Love