Charles Lindbergh Superb ALS in the Year of his
Don't Miss Your Next Treasure.
Set up a search alert to hear when Militaria & War Memorabilia items arrive.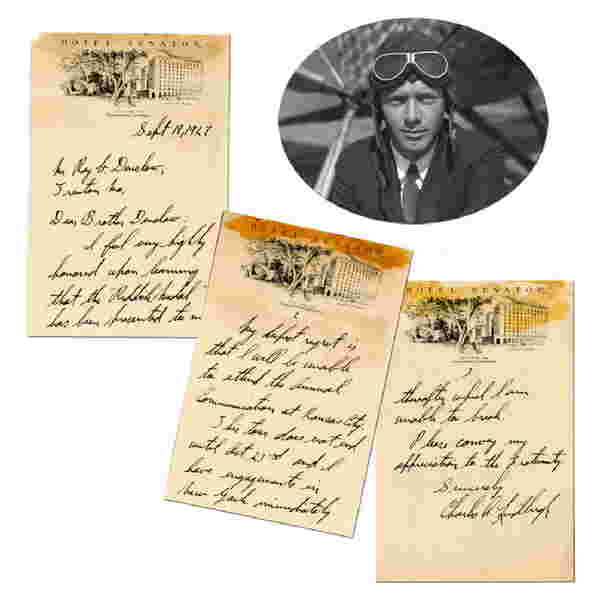 Lot 0137 Details
Description
Description: Lindbergh Charles

Charles Lindbergh Superb ALS in the Year of his Successful Solo Transatlantic Flight, to the Masons!

Less than four months after becoming an international celebrity by winning the Orteig Prize for the first nonstop flight from New York to Paris, Lindbergh sends his regrets to a Missouri Mason who had informed him that the Masons had awarded him the Riddick Medal.

CHARLES A. LINDBERGH, autograph letter signed, to Ray V. Denslow, September 18, 1927, Sacramento, California. On Hotel Senator stationery; includes envelope. 3 pp., 5.5" x 8.375". Expected folds; very good with strong, clear signature.

Complete Transcript

"Sept. 18, 1927

Mr. Ray V. Denslow,

Trenton Mo.

Dear Brother Denslow:

I feel very highly honored upon learning that the "Riddick Medal" has been presented to me.

My deepest regret is that I will be unable to attend the Annual Communication at Kansas City.

This tour does not end until Oct. 23rd and I have engagements in New York immediately thereafter which I am unable to break.

Please convey my appreciation to the Fraternity.

Sincerely

Charles A. Lindbergh."

Freemasonry was established in Missouri at St. Genevieve in 1807 in what was then the Louisiana Territory. In 1808, the Grand Lodge of Pennsylvania warranted Meriwether Lewis (of the Lewis and Clark Expedition and first governor of the territory), Thomas F. Riddick (the first Grand Master of the Grand Lodge of Missouri at its organization in 1821), and Rufus Easton to establish Saint Louis Lodge No. 111.

The Riddick Award was a medal awarded annually by the Grand Lodge of Missouri to the Freemason of that Masonic Jurisdiction who during the preceding twelve months had rendered the most conspicuous service to his country, state, or community.

Charles A. Lindbergh joined Freemasonry in St. Louis and completed his Masonic degrees in 1926 at Keystone Lodge No. 243 in Missouri, just a few months before his famous flight, on which he wore a Masonic square and compass pin. The Spirit of St. Louis was also adorned with a Masonic emblem. Given his worldwide fame, he was the natural choice as recipient of the Riddick Award in 1927.

Charles A. Lindbergh (1902-1974) was born in Detroit, Michigan, and grew up in Minnesota and Washington, D.C., the son of a Swedish immigrant and later Congressman. He studied at the University of Wisconsin but dropped out early in 1922 to begin flight training in Lincoln, Nebraska. He flew solo for the first time in Americus, Georgia, where he had gone to purchase a World War I surplus biplane. After barnstorming, Lindbergh took a year of military flight training with the United States Army Air Service in San Antonio, Texas. He graduated first in his class of eighteen (out of 104 cadets that began the training), and received his commission as a 2nd lieutenant in the Air Service Reserve Corps. After working as a barnstormer and flight instructor, Lindbergh joined the Missouri National Guard and received promotion to captain in July 1926. From 1926 to 1927, he flew mail routes between St. Louis and Chicago. Lindbergh flew his plane Spirit of St. Louis from Long Island, New York, to Paris, France, in May 1927 to win the Orteig Prize for the first solo flight across the Atlantic Ocean, making him an instant world-wide celebrity. Congress awarded him the Medal of Honor for his thirty-three-and-a-half-hour flight, and Time magazine named him its first and still youngest Man of the Year in 1928.

Dwight Morrow, U.S. Ambassador to Mexico in 1927, invited Lindbergh on a goodwill tour to Mexico, where he met Morrow's daughter Anne (1906-2001). They married in May 1929 and had six children between 1930 and 1945. The kidnapping in 1932 of the Lindberghs' young child from their home and the subsequent discovery of his dead body riveted the nation as the "Crime of the Century." After living in Europe from 1935 to 1939, Lindbergh returned to active duty to evaluate the Army Air Corps' readiness for war. He also traveled to Germany several times and observed Hitler's development of the German Luftwaffe. Hermann Goring presented Lindbergh with the Cross of the Order of the German Eagle on one visit. In 1938, the year of the Munich Conference, Lindbergh wrote a confidential memo to British and French diplomats warning them to take the German air threat seriously, and to avoid war. At home he was condemned as a Nazi sympathizer, and President Roosevelt banned him from rejoining the military. He was more an isolationist and anti-communist than a full-blown Nazi sympathizer, though a couple of his speeches were sprinkled with anti-Semitic references. He was a leading spokesman for the America First Committee, which opposed U.S. entrance into World War II. During World War II, Lindbergh served as a consultant but also flew fifty combat missions in the Pacific as a civilian. After the war, he served as a consultant to both military and civilian air forces.

Ray V. Denslow (1885-1960) was co-publisher with his father of the Trenton Daily News in Trenton, Missouri. In 1921, he left that business to become Postmaster of Trenton. He devoted the remainder of his life to Masonic work, serving as Grand Master of the State of Missouri in 1931. He helped establish communications between Grand Lodges all over the world and especially helped to reactivate Grand Lodges after World War II. While General Grand High Priest of the Royal Arch Masons in 1942, Denslow created The Royal Arch Magazine, which he edited until 1946, when his son became business manager.

This item comes with a Certificate from John Reznikoff, a premier authenticator for both major 3rd party authentication services, PSA and JSA (James Spence Authentications), as well as numerous auction houses.

WE PROVIDE IN-HOUSE SHIPPING WORLDWIDE!
Charles Lindbergh Superb ALS in the Year of his
Estimate $1,000 - $1,200
Jun 26, 2019
Shipping, Payment & Auction Policies
Ships from
Westport , CT, United States