359: 1938 Talbot-Lago T150-C Lago Speciale Teardrop Cou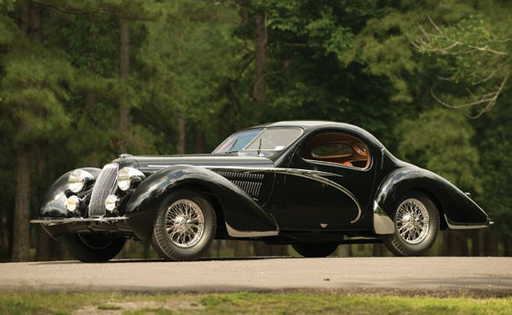 See Sold Price
Don't Miss Your Next Treasure.
Set up a search alert to hear when RM Auctions lists new auctions.
Auction ended on August 15th, 2010 UTC
359: 1938 Talbot-Lago T150-C Lago Speciale Teardrop Cou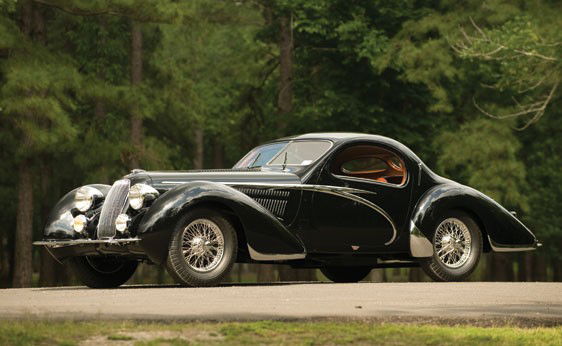 Chassis #: 90034

170 bhp (rated 140 bhp), 3,996 cc six-cylinder engine with hemispherical combustion chambers and triple Stromberg carburetors, Wilson four-speed pre-selector transmission, independent front suspension with transverse leaf spring, leaf spring and live axle rear suspension, and four-wheel drum brakes. Wheelbase: 116.14"

- From the estate of Mr. John M. O'Quinn
- 1948 24 Hours of Spa class winner
- The only long-wheelbase Lago Speciale Teardrop Coupe in existence
- Stunning Figoni et Falaschi coachwork, the pinnacle of French streamlined design
- Unbroken provenance from new

After taking control of Automobiles Talbot in 1935, Anthony Lago renamed the Suresnes, France-based enterprise Talbot-Lago. He immediately hired an engineer named Walter Brecchia, and together they created the first Talbot-Lago, based on a Talbot-Darracq three-liter Type K78.

Brecchia's next engine proved brilliant. Based on the six-cylinder K78 block, displacement grew to four liters, and a new cylinder head dramatically improved breathing and volumetric efficiency. The hemispherical-head design featured a valvetrain actuated by a low-set camshaft with crossed pushrods, acting through both long and short rocker arms. The engine developed 140 hp, and initially, it breathed through twin Solex carburetors.

A consummate salesman, Lago persuaded French racing great René Dreyfus to manage his new Talbot-Lago race team. Dreyfus delivered in June of 1936 at the French Grand Prix at Montlhéry, when Lago asked him to "stay ahead of the Bugattis for as long as you can." All three Talbot-Lagos finished in the top ten, running toe-to-toe with the Bugattis before mechanical problems slowed them near the end.

The next year, Talbot-Lagos placed first, second, third and fifth at the 1937 French Grand Prix. Victories continued with a win at Tourist Trophy races at Donnington Park and a first place in the 1938 Monte Carlo Rally. While the Talbot-Lago racing cars were outclassed by the omnipotent German Mercedes-Benz and Auto-Union GP cars during the late 1930s, the Talbot-Lagos were uncannily reliable and often finished surprisingly well.

T150-C

However, Anthony Lago's greatest achievement remains without doubt the Talbot-Lago T150-C chassis, with the "C" standing for competition – a clear reference to the car's racing success. Features such as a large capacity oil pan, punched handbrake lever, a dual braking system, and a higher compression ratio were taken directly from the racing program. Two versions were offered. The first, designated SS (taken from the English phrase "Super Sport") referred to a short-wheelbase (2.65 m) chassis, designed for elegant two- or three-place coachwork.

A second, somewhat longer (2.95 m) chassis was also offered, called the "Lago Speciale." Mechanically identical to the SS, it was intended to accommodate more luxurious coachwork. In fact, the weight difference was just 130 kg, and the performance of the new four-liter engine was great enough that many owners raced their Lago Speciales as well. Both chassis offered exceptional handling, a result of the car's independent front suspension with its advanced geometry, along with light weight and excellent brakes.

Figoni et Falaschi

Racing success certainly enhanced the appeal; it was this demand, combined with Lago's collaboration with Joseph Figoni and Ovidio Falaschi and their Figoni et Falaschi coachbuilding firm, that would lead to the creation of what many believe are the most beautiful cars ever built. There is little doubt that the era of exuberant French coachwork precipitated a tidal change in automotive design. Gone were the largely functional forms of the twenties and early thirties, replaced by the fanciful curves and sensuous lines that ushered in the era of the automobile as art. Although others were versed in the style to one degree or another, it was the Parisian firm of Figoni et Falaschi that is widely regarded as the innovator of the new look.

Prominent among the Figoni et Falaschi-bodied Talbot-Lagos was a series of coupes, the first one commissioned at the request of a French businessman, M. Jeancart, resulting in what many believe was Figoni's most important and successful design: the so-called Teardrop or "goutte d'eau" coupes.

It is believed that just sixteen were built, with two slightly different body styles. The first car, in what is now known as the 'Jeancart' design after the name of its first owner, was a beautiful aerodynamic coupe with a long streamlined rear. Five were built, either on the short C-SS chassis or on the Lago Speciale, with one car built on a T23 chassis.

Chassis 90034

Most notable in this series are chassis 90101, the car that finished third at Le Mans in 1938 as part of the Chinetti Team (90106), and the example offered here, chassis 90034, which finished first in class in the 1948 24 Hours of Spa. Both shared external front lights for racing in the night, a split windscreen and the absence of rear spats in an effort to increase ventilation to the rear axle and brakes. Both were clearly constructed and intended to race.

The others were built in the 'New York' style, named after the car shown at the New York Auto Salon in 1937. Except for one car on a T23 chassis, these were all T150-C short-chassis cars. Whether in the 'Jeancart' or 'New York' style, all these hand-built cars show minor differences, based on the original owner's requirements. Two cars in the 'New York' series had fully skirted front fenders, and headlamp treatment varied. Some with recessed headlamps were transformed to the bullet design early in their life.

Perfectly proportioned, these Teardrop Coupes represent the pinnacle of the French streamlined design movement, combining race-bred technical competence with a brand-new design inspired by aerodynamic efficiency directly linked with advances in aviation. Most Teardrops were designed to accommodate two people, but a few cars, including 90034, could accommodate three.

While all Teardrops were quite unique, chassis 90034 may well be the most unique of all. It is the only example built on the longer Lago Speciale chassis – some 30 cm, or 11.8 inches, greater than the SS. One can safely assume that the intent was to create a superb grand touring car; the result, embodied by this example, superbly meets the criteria.

In the world of important French cars, provenance is second only to design, and 90034 stands as one of the best of the Teardrops, having a continuous history from new, a commendable and unique competition record, and no history of fire, accident or deterioration. Furthermore, all the car's major components remain intact and together.

Ordered new by Antoine Schumann, 90034 was commissioned as the wealthy Parisian banker's replacement for his Figoni-bodied Bugatti Type 50. Schumann's Bugatti was a team car that he had purchased directly from the factory. Schumann, known to have been a close friend of none other than Pierre-Louis Dreyfus, naturally chose a Talbot-Lago. Another interesting friend of Schumann was legendary race driver and automotive entrepreneur Luigi Chinetti.

Chinetti was always a fan of the T150-C. So much so, that during an interview in Automobile Classique, Chinetti rated the Talbot-Lago T150-C on par with the 2.9 Alfa Romeos he had known so intimately. Chinetti was the only official sales agent for the Talbot-Lago Figoni Teardrop Coupes throughout Europe. At an astounding price of 165,000 francs, the Lago Speciale ordered by Antoine Schumann represented one of the most expensive automobiles in 1938.

It is important to consider that with Schumann being a race driver, and given his close relationship to both Dreyfus and Chinetti, 90034 was undoubtedly a highly specialized order. One look at the Teardrop's exquisitely detailed dashboard shows an array of gauges, most of which are indicative of a race-bred motor car with a competitive purpose. The Schumann Talbot-Lago was fitted with an extraordinary number of accessories and one-off features, from the radiator to the exterior lighting and full-size sliding sunroof.

The Schumann Talbot was given Figoni production number 738, a number that can be found on the car in numerous places even today, as all of its stamped components remain intact and original. It was delivered to Schumann finished in a handsome shade of dark blue, as confirmed by both Figoni records and previous visual inspection.

While it is clear that the Lago Speciale has been repainted as many as five times, it is remarkable that the original dark blue could still be found in the panel fittings of the fenders and other areas, including behind the dashboard and inside the glove box prior to its restoration. Obviously, as the car was fully restored, these areas are no longer present. It is so rare to see this aspect of a car's originality, and to find it on something as significant as this Teardrop Coupe speaks volumes to the Talbot-Lago's integrity and provenance.

Sadly, Antoine Schumann was killed while serving in the French army. The Talbot had likely been hidden away during the war and was largely forgotten in light of the circumstances. The next owner was Freddy Damman, a young racing enthusiast who purchased the Talbot in 1947. Damman repainted it in light grey and prepared the Lago Speciale for its racing debut at the 1948 24 Hours of Spa. Driven by Damman and co-driver and mechanic Constant Debelder, 90034 took first in class.

Freddy Damman, in all his years as an automotive enthusiast, retained only one significant motor car for any length of time: the 1938 Talbot-Lago T150-C Lago Speciale. His daughter related that it was this specific Talbot that he loved the most, and while various Ferraris and other Talbots came and went, 90034 remained the centerpiece of his collection for approximately 30 years.

The Talbot remained with Freddy Damman and the Damman family for decades before being sold privately in 1979. It then passed through the ownership of renowned film producer and industrialist Michel Seydoux before being sold at auction in 1981. The purchaser was an avid motoring enthusiast and private collector who retained the Lago Speciale for 23 years. Research reveals that by this point, the Talbot had been repainted in a two-tone black and burgundy. Later the car went to all black, nevertheless remaining entirely complete and having still not been fully restored. While in his ownership, it is understood that the Talbot was featured in a film, requiring transportation to Mexico. While there, the owner drove the Talbot daily.

The next owner fell in love with the car at first sight. An avid motoring enthusiast and collector of important cars, he intended to restore it for Pebble Beach or to display as a piece of fine art. Following acquisition, the engine received a light mechanical restoration, including a set of freshly rebuilt valves.

On a previous road test in 2005, the Talbot proved to be an absolute delight to drive. Fitted with the correct Wilson four-speed pre-selector gearbox, 90034 was noted to be a tremendously exciting car to drive. The driving experience, especially given its pure unrestored form, was likened to stepping back in time. That year, 90034 joined the collection of the late Mr. John O'Quinn, who embarked on a comprehensive restoration following his successful purchase.

The Talbot was restored to perfection by RM Auto Restoration, and now finished in a lustrous black with a beautifully matched textured tobacco leather interior, its appearance is even more impressive. Mechanically, the car was treated with equal attention to detail, leaving nothing untouched. A new radiator and core was fitted, everything synced to mechanical perfection and, as a testament to its excellent original condition prior to the restoration, even the original wood trim was retained and refinished. The results are simply outstanding, and the car is fully eligible for showing at the world's most prestigious concours, including Pebble Beach, Amelia Island and Meadow Brook, having never been publically seen in its current fully restored condition.

There is no question that the 1938 Talbot-Lago T150-C Lago Speciale is a masterwork of Art Deco design. Its proportions and sweeping stance are a wonderful representation of the pinnacle of prewar French creativity and imagination. Crafted at the very height of Art Deco design in 1938, it is, like all significant works of art, virtually unmatched in its beauty, without peer or parallel.

Its appearance and availability marks only the second time this Talbot has been offered publicly since 1981. Its history is continuous and uncontested since 1938, and its provenance is impeccable, while its mechanical and cosmetic condition are as excellent as one could possibly hope for in a car of such substance. Without argument, it truly remains one of the most stunning cars in the world today.
Discover Items You'll Love