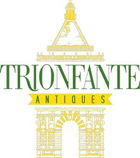 161 Followers
La Trionfante Antiques nasce dalle nuove leve della famiglia Trionfante. L' Amore per l'antiquariato ci ha portato a frequentazioni e anni di studio per acquisire una buona esperienza. La ricerca della qualità , dell'originalità dei pezzi è la nostra priorità . Oggettistica, arredamenti di arte vintage, collezionismo, religiosa, etc... Entrati da poco anche nel mondo delle aste, siamo comunque supportati dall'esperienza acquisita in questi anni dalla nostra famiglia , antiquari da generazioni che continua a consigliarci in questo splendido lavoro di cui loro per primi hanno fatto la loro ragione di vita.
Upcoming Auctions from Trionfante Antiques srls
Bidder Reviews for Trionfante Antiques srls

(

13

)
2 Latest Top ReviewsSee All
Tutto perfetto
Tutto perfetto
Molto soddisfatto/satisfied
Oggetto come da descrizione, contatto rapido e pagamento veloce, ottima comunicazione, imballaggio perfetto e costi di spedizione adeguati. È stato un piacere fare affari con loro. Item as described, prompt communication and payment. Professionally packed at a reasonable cost. Nice to deal with!