Weekly Auctions of Exceptional Items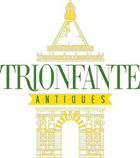 La Trionfante Antiques nasce dalle nuove leve della famiglia Trionfante. L' Amore per l'antiquariato ci ha portato a frequentazioni e anni di studio per acquisire una buona esperienza. La ricerca della qualità , dell'originalità dei pezzi è la nostra priorità . Oggettistica, arredamenti di arte vintage, collezionismo, religiosa, etc... Entrati da poco anche nel mondo delle aste, siamo comunque supportati dall'esperienza acquisita in questi anni dalla nostra famiglia , antiquari da generazioni che continua a consigliarci in questo splendido lavoro di cui loro per primi hanno fatto la loro ragione di vita.
Upcoming Auctions
Reviews
Past Auctions
Upcoming Auctions from Trionfante Antiques srls
Trionfante Antiques srls has no upcoming auctions. auctioneer to hear about new auctions.
Bidder Reviews for Trionfante Antiques srls

(

12

)
Molto soddisfatto/satisfied
Oggetto come da descrizione, contatto rapido e pagamento veloce, ottima comunicazione, imballaggio perfetto e costi di spedizione adeguati. È stato un piacere fare affari con loro. Item as described, prompt communication and payment. Professionally packed at a reasonable cost. Nice to deal with!